Check out how you can enable 31 hidden options and features on Samsung Android powered Galaxy Note 2, Galaxy S4 and other phones.
Samsung Android phones are supplied with a lot many features other than what it's found on Android or Google Play Store. Apart from Samsung Apps, there are many hidden features as well which are not visible to general consumers. If you have searched the web with keywords like hidden Galaxy S4 features, hidden Note 2 features, hidden Galaxy Grand phone and you have landed here, then you are on the right place to find it.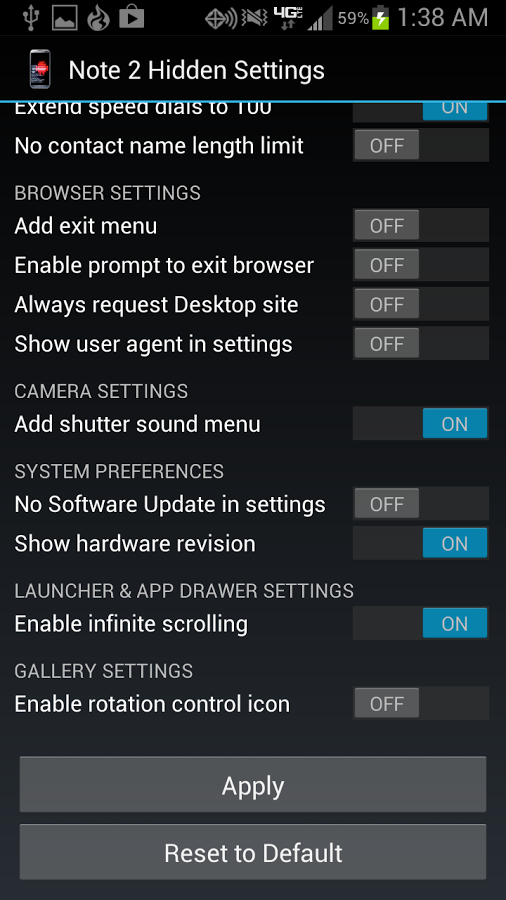 It's only the matters that you want to get this enabled as a total of 31 hidden options. Devices like Samsung Galaxy Note II, Galaxy S4, Galaxy S3 phones includes CSC file which holds these hidden options. To read CSC file you will need CSC file editor and you can do it. But for a novice users like me, I will prefer to go with an app if available because I don't want to land in troubles as a single mistake will brick my phone.
App named as Note 2 Hidden Settings is available for free download and its available for free download but requites root on your handset. Once this app is installed you can easily ON/OFF any of the hidden features listed. A total of 31 hidden settings are available.
Features
Shows which options have already been enabled, even by a different app or manually
Creates an automatic backup in case something goes wrong
Nice looking Holo interface
Supports devices which implement feature.xml or an others.xml file
Adding an option of Shutter sound on/off to the camera app

Turning on Infinite Scroll mode on the launcher and app drawer

Extending how many contacts you can join together
Check and install the app on Play Store: Link