We have gone through Fidelity Media Review with payment proof, eCPM Rates and referral program details here.
Fidelity Media is an advertising network based on Cost Per Mile (CPM Network). It's one of the good reputed CPM network existing since 2007. They accepts 90 % of worldwide traffic monetization except few demographics. Using the pass back tags, you can provide the backup tags for unsold impression and make money too. Recently they have come up with in video ads as well.
There ads are malware free and doesn't include any suspicious or malicious code. You can run Fidelity Media banners alongside with Google AdSense as well.
Referral Program
Recently in 2012, Fidelity Media introduces Referral program which rewards publisher for referring new publishers.
Fidelity Media Details
Publisher Minimum Requirement
Subjected for Approval
Commission Type
CPM
Maximum Banners/Page
3 Banners + 1 In Page Video Ad

Ad Sizes
468 x60, 728 x90, 160 x 600, 120 x 600, 300 x 250, In Page Video

Revenue Share
80:20
Payment Threshold
$5
Payment Terms
Monthly

Payment Method
PayPal

Contact/Support
Headquarters, Sales USA/UK/Australia:
Elman Systems Limited
Sea Meadow House, Blackburn Highwayroad Town, PO Box 116
Tortola, Virgin Islands (British), VG1110
Phone: +1.415.651.4213
Email: [email protected], Sales Europe/Asia/CIS:
Fidelity LLC
Moskovsky 40, Kaliningrad, PO Box 295
Russian Federation, 236000
Phone: +7.401.270.2621
Email: [email protected]
Pros
Monthly payment without any request
Cons
Just decent CPM rates
Payment Proof
Reaching the $5 per month, we have got paid every month since we joined the network. Here is the payment proof screenshot –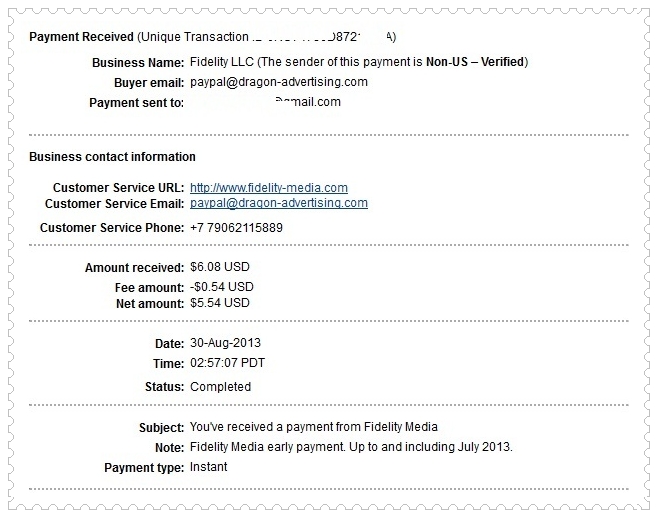 Review & Conclusion
Definitely not a scam or fraud program but pays relatively decent CPM rates for top tier countries. We got paid many times and we recommend you to try out this network.
Join the Network