The Google Nexus 4 is a huge hit and until now whenever it's made available officially via Google Play Store, it ran out of stock within no time.  Fido Solutions a subsidiary of Rogers in Canada gets the privilege to come up with Google Nexus 4 phone originally manufactured by LG Electronics. No other company would be as happy as LG with partnership to Google for Nexus phone. Nexus 4 is in huge demand in comparison with Nexus 10.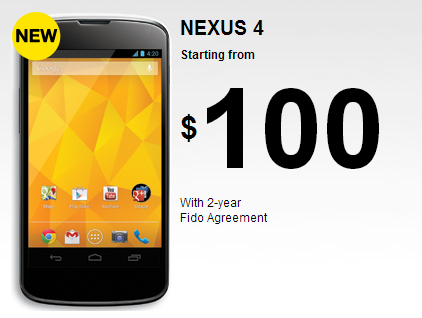 The 1.5 Ghz quad-core Qualcomm Snapdragon S4 Pro chipset powered Nexus 4 is now available for purchase via Fido Solutions in Canada at $ 100. This comes as surprise and lowest pricing in the country as Videotron is offering the same device at a price of $ 149.95. Not too long ago did Videotron started selling Nexus 4 from January 30, 2013 and now Fido enters the competition by slashing the price. I am sure $ 50 will make a considerable amount of discount and but you should also look on the other side that you need to choose Fido network services. Fido Solutions is the Canada wide network operators whose unlimited plans start at $ 20. Also if you purchase this smartphone then you need to signup a new two-year agreement with Fido.
Read More about Android 5.0 Lollipop
With Nexus 4 hitting the chart harder, Galaxy Nexus the first phone with Android 4.0 ICS at Fido has been slashed to free with two-year agreement. Other phones available for no charges at Fido are Xperia U, Optimus 2x, Samsung Galaxy Q.
So if you are in Canada and looking to buy Nexus 4 phone, then head to nearest Fido stores now and book your device. It's also available via Fido official online portal at Fido.Ca.