Check some of the basic fix for common problems & errors found in Brother Laser or Inkjet printers.
Brother International is the world class manufacturer of inkjet printers, laser printer, fax machines, mobile printers, mobile scanners, garment printers and other office related printers supplies.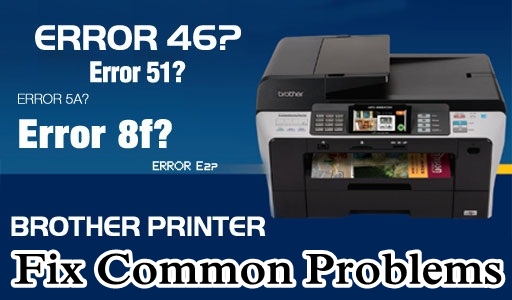 These printers from Brother provide excellent services but some time in practical application it can lead you out to some problems and errors on your Brother Printer.
The following are the Brother Printer common problems and their solutions to it.
Running Out of Ink Quickly
While many feels that their printer is running out of ink quickly but they important thing that they should know is how much is the prints output capacity of your printer, if it doesn't matches the OEM specifications then you can think its running out of ink in quick time. A common problem many people complaints is that their Brother printers runs out of ink in quick time. There is no perfect solution to it except refill your cartridge or buy a new cartridge.
Brother Printer Error Messages
If you receive errors on your printer, it can be of real frustration to you. The user friendly response is to check out manual provided to you and browse for the solution of it. If that doesn't solve your problem then you can get in touch with their technical support through their helpline numbers.
Printer Stopped Working Suddenly
Your Brother printer doesn't stops suddenly in 90% of the cases. The problem can be of anything like driver missing, need to update drivers, improper drivers installation, strucking in your printer, cartridges not installed properly and it can include lot many problems. The better solution to this is to make sure that what has caused the problem after you have got the last print. Many times it maybe the issue of power off, cables not connected properly.
Replace Cartridge
If you are printing many prints a day then you should be knowing that your cartridges and ink would be ending soon and you need to replace it in quick times.
Paper Jam Problems
Many times your printer doesn't work because of the paper jams which is the most widely seen detected why printer doesn't do the print job. You need to remove the strucked paper inside your printer by pulling it in the paper feed direction.
If you are facing any other issues than the above ones, then do let us know via comments.