Google Chrome browser might report you of 'Deceptive site ahead' detection problem. Actually this is a good move by Google to warn users that they detect to potentially harm users security. It was only last year that Google on Chrome browser launched safe browsing protection feature. Similarly the same website might show up the error of Reported Web Forgery on Mozilla Firefox. The following guide explains how to fix Deceptive site ahead on Chrome and Reported Web forgery error on Firefox respectively.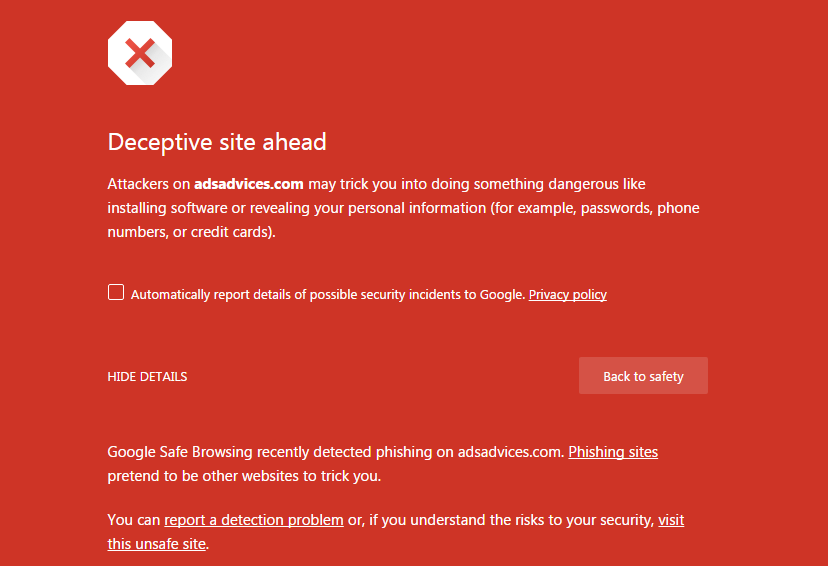 In Google's description, you may find this many times on the web –
Deceptive site ahead

Attackers on Somessiteunknown.com may trick you into doing something dangerous like installing software or revealing your personal information (for example, passwords, phone numbers, or credit cards).
Google Safe Browsing recently detected phishing on <example site>. Phishing sitespretend to be other websites to trick you.
You can report a detection problem or, if you understand the risks to your security, visit this unsafe site.
That's definitely OK with other sites but what happens if that happens to your blog? First of all you will be showed but definitely there is a solution to fix it. Recently one of my site named http://adsadvices.com/ got this error.
Fix Firefox Web Forgery
After some days Mozilla Firefox browser also detected the same problem and for both of them the solution is just one. Follow it.
How to Fix it
First of all, take your own time and read this helpful Google Internet Website Security help page.
Once you are done, head over to Google Search Console.
Click on the respective site listing. You will see "Severe health issues are found in your property".
Now Click on Check Property Health. You also go through Security Issues on that particular web console details.
Now before filing a request you should ensure that malicious ad code or whatever is causing the problem is removed/cleaned.
Finally click on Request a Review.
Sit back and relax.
Within 72 hours if everything is good and fine on your site, then it will be restored for more users.
This post was last modified on April 24, 2020 8:48 AM