Guide on how to fix Google Play Strucked at Downloading app.
Google Play Store has lots of apps for Android users and every app has atleast two to three alternatives. Presently there may are millions of Android apps and lots of people download them every day. But sometimes when your downloads are in progress Google Play Store stuck in between on the download process and it does not go any further. Through the following tutorial, we will try to fix that problem and also let you know this happens.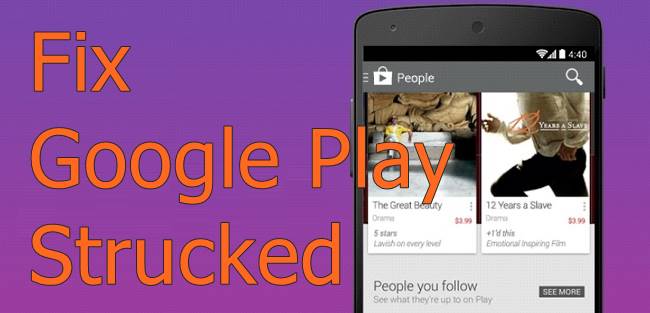 Fix Google Play Strucked at Downloading
Today in this tutorial we will discuss, how we can overcome the problem of Google Play Strucked at Downloading and at the same time we will provide tips to fix the problem.
Many times when you start downloading an app from the store the loading bar keeps on loading but the download doesn't start.
This kind of problem may also be dues bad internet connection on the device. But if you are using the 3G/4G internet then this should not happen at all. If it happens then there must be an issue with the Google Play Store.
Procedure to fix Google Play Strucked at downloading
Now we will discuss step by step guide to solve the problem -
Tap on the Menu icon on your Android device.
Go to the Settings tab in the app drawer and tap on it.
Under Settings, go to Applications and click on Manage applications.
Find Google Play Store from the list of applications displayed.
Tap on the Google Play Store app.
Many options will be given in the new window opened.
Tap on Force Close option, this will close the application if it is running in the background.
Once closed, tap on Clear Data option.
Tap on Uninstall Updates, this uninstalls all updates that were installed.
Download the apps from Google Play Store without any issues.
This guide works great on Samsung Galaxy phones, HTC phones, Sony phones and Xiaomi mobiles.
Also Read:
Hope your issue of Google Play Strucked is resolved now.