Hotstar is the India's #1 free online streaming aka video on demand service owned by Star India. It quite became one of the most popular app on Android and iPhone in India. It's widely popular because almost all the India's Cricket matches are live-stream on the web by Hotstar. You can watch Cricket matches live streaming on your mobile as well. Recently when I opened it for live streaming of India vs England test match, the hotstar app showed me the weird error of Unable to Serve Your Request. Herein we will learn how to fix this hotstar error on the app/website.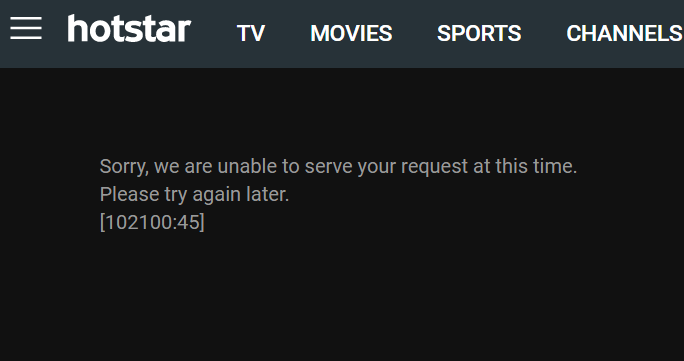 Hotstar Live Streaming Error
The Hotstar error reads as –
Sorry, We are unable to serve your request at this time. Please try again later. [102100:45]
When you encounter such error, there is no even an option to click on OK or retry again. Furthermore, the error message doesn't any information about what caused the problem.
Solution
Hotstar uses advanced tracking technology and it easily identifies proxy servers. So, if you are using proxy settings to connect the network, then the live streaming will not be available to you and the hotstar app player will show the above mentioned error.
How to Fix
Simple solution is to change your mobile browser. But if you are addicted to Google Chrome and really want to fix the issue, then do this –
Go Settings on Google Chrome.
Now select 'Show Advanced Settings'.
Scroll and find out Network, under which you will have to click on 'Change Proxy Settings'.
A popup will open and then click on LAN Settings.
That's it. It will fix the issue.