Amazon Affiliate Program is one of the best ways to earn money online by referring to products on Amazon.com. Sadly this service is not available in India as Amazon is with Junglee.com launched in 2011. Junglee hasn't started an affiliate program and before they do, Flipkart has started one of the benefits of users. Flipkart is India's biggest online marketplace for digital products like smartphones, tablet PCs, laptops, eBooks, and computers. Recently they have setup Clothing, Footwear and other general merchandise of items.
Flipkart Affiliate Program Review
As a blogger many would have recommended you to join affiliate program if you have good traffic, you get good conversions. But the question remained to Indian bloggers is that which is the best affiliate program? On the other side, Flipkart is one of India's leading eCommerce site for online purchase of mobile phones first and then, later on, they added digital cameras, laptops, digital tablet PCs, eBooks and clothes. Founded by Bansal brothers in 2007, the site has become #1 eCommerce site in India.
Recently they have started an affiliate program and this gives further hope for them to make extra sales by expanding their network to bloggers support. Bloggers can promote products listed in Flipkart and earn money by commission. The commission you get from the sale of each product varies from product niche, the percentage has been discussed below.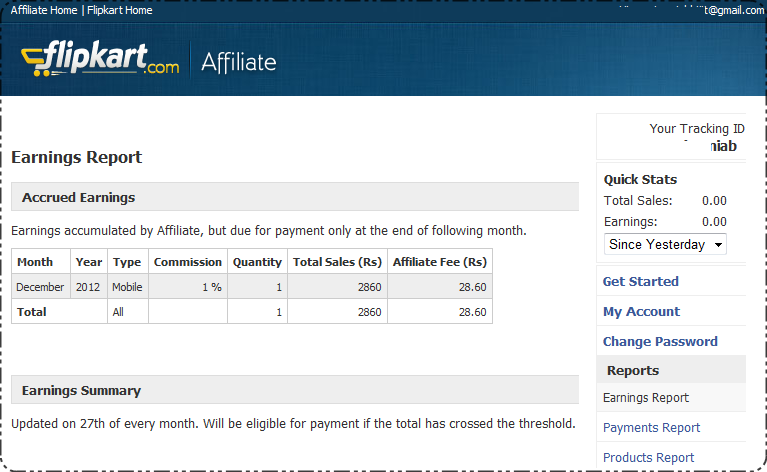 Joining the Flipkart Affiliate program is free and instant[Link]. Once you have joined it, you will be provided with tracking ID and also guide on how you can install the tracking ID on all the URL. It's just appending the ?affid=YourTrackingID to product URL. Moreover, you will be guided through the tutorial under the Affiliate Tools selecting the Products Links, Banners and Search Bar.
The commission report is divided into four types –
Earning Report
Payment Report
Products Report
Traffic Report
Flipkart Affiliate Commission Rates
Commission rate as follows -
Digital Products 10%
Apparels Products 8%
Sports & Fitness Products 8%
Watches Products 8%
Footwear Products 8%
Leather & Travel Accessories Products 8%
Books Products 6%
Office Supplies Products 4%
Fragrance Products 4%
Health & Beauty Products 4%
Toys Products 4%
Baby Care Products 4%
Movies & TV Shows Products 4%
Software Products 3%
Digital Camera Products 2%
Games & Consoles Products 1%
Audio & MP3 Players Products 1%
Personal & Health Care Products 1%
Home & Kitchen Products 1%
TV & Video Products 0.5%
Mobiles & Accessories Products 1%
Computers Products 0.5%
Surprisingly digital products get you 10 % commission and the mobile phone gets you only 1 %.
Note: Check official Flipkart Affiliate page for commission change.
Flipkart Affiliates Payment
It's quite important to understand how Flipkart pays to its affiliates. As of now they pay via following two methods –
Gift Voucher which can be redeemed against the purchase at Flipkart worth the amount you have generated via affiliate commission.
Electronic Funds Transfer, the best one which I like. You get your hard earned money deposited into your bank account directly when the total amount reaches Rs 2500.
Also Read
Android 8 Oreo Phone update list
Suggestion & Improvements
Flipkart Affiliates is a good move but we TechnosAmigos also recommend to Flipkart to come out with following initiatives –
Referral Program – It would be great if Flipkart introduces referral program to anyone joining Flipkart Affiliate Program. This would see a great degree of expansion and coverage on various blogs.