Fujitsu is not a big name when it comes to Android smartphone line up but maker from Japan have few Android devices out in the market. Now the company is ready to make a big jump as they are in line to come up with Samsung Galaxy S4 GT-I9500 competitor.
As of now Fujitsu hasn't assigned any name to the device but this is spotted on AnTuTu Benchmark test with name as FJDEV001 and it clearly the initial name of the device. According to Benchmark results, it has obtained a score of 25,458 point which is higher than Samsung Galaxy S4 international score. Well this might not be the world record for highest Benchmark score as it goes to a variant of Galaxy S4.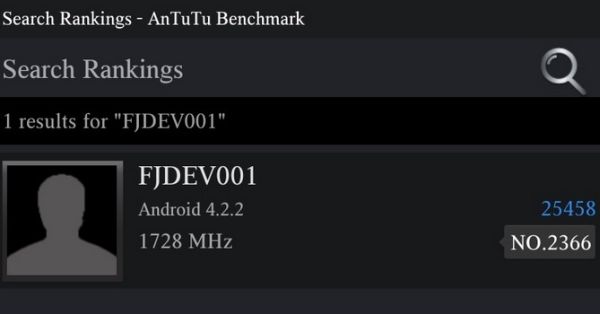 It's believed that this phone by Fujitsu could be the world's second fastest smartphone until now. Comparing the AnTuTu Benchmarks results with other flagship phones, HTC One obtained 24,500 points while XPeria X reached just 21,000. We understand that AnTuTu Benchmark test is not only the tool to judge smartphone CPU performance and theoretical memory.
Rumored Fujitsu FJDEV001, will be powered with Qualcomm Snapdragon 600 APQ8064T high chipset and operating system is adopted to be Android 4.2.2 Jelly Bean. It's hard to guarantee of any specs but it's reported that it will feature 12 mega pixel camera on the rear side. Fujitsu will certainly supply with full HD display as this will be its flagship smartphone.
2 GB RAM, water proof body are certainly the expected featured on this highly anticipated device. According to folks at TheDroidGuy, it reportedly for NTT DoCoMo in Japan and the question of whether it will hit Western markets or will it be Japan bound smartphone?