Buy Samsung Galaxy S6, S6 Edge via EE, O2, Three, CarePhone, Vodafone in Europe.
For Europe, it's the happy Galaxy S6 and S6 Edge pre-order day. If you have been tirelessly waiting for Samsung's new flagship phone, then here is one new you should checkout. Infact you should make your decision now as pre-order of both Galaxy S6 and Galaxy S6 Edge has begun. Both phones are one step close to reality as many European carriers have started pre-order of this handset coming out in various bundled offers, colors and storage sizes. Many independent sellers too have joined the league in offering the iPhone killer.
Galaxy S6 EE
The Galaxy S6 Preorder on EE by 22nd March will qualify for guaranteed same day delivery on official April 10 launch. Order of wireless charger before 30 April will qualify for £20 off on Samsung case.

Galaxy S6 O2
O2 is now selling Galaxy S6 in three different colors with availability in 32 GB and 64 GB for S6 and only 64 GB variant of Galaxy S6 Edge phone. You can get it for free with monthly EMI covered in £48 monthly plan for SGS6 and £53 per month for Galaxy S6 Edge.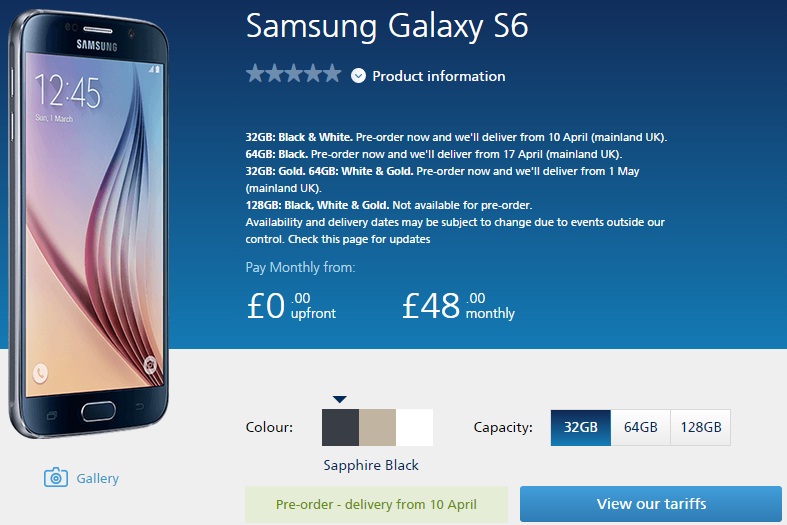 Galaxy S6 Vodafone
Samsung Galaxy S6 on Vodafone UK will be sold in all configurations and colors including 128 GB. There is no details on shipping or exact delivery available but it should start from April 10 too.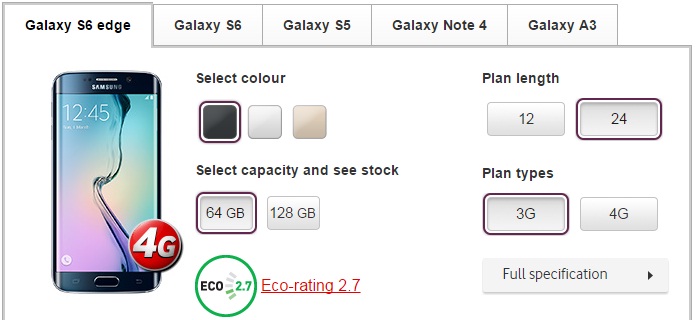 Galaxy S6 Three UK
Three UK hasn't revealed anything except their pre-order page is up.
CarPhone Warehouse
Carphone Warehouse is selling 32 GB and 64 GB of Black, White Galaxy S6. Same goes with Galaxy S6 Edge as well. They are providing free wireless charger with any of these devices purchase worth £40.
Platinum Gold version across all sellers will be delayed. It will be delivered around May first week.