With launch of HTC First, Facebook also introduced Facebook Home a launcher app for HTC phones. Facebook also announced that this app launcher will be available later in April last week for other Android smartphones provided they meet requirements. But if you can't resist yourself from trying out the Facebook Home APK on your device, here come a beta version leak available for download.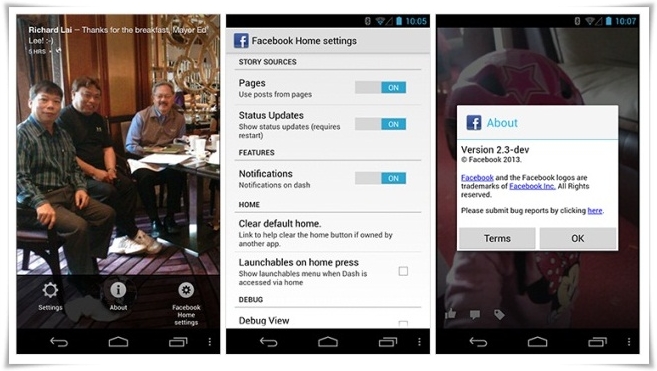 Facebook Home APK is release by MoDaCo but still it's in beta stage and it's made up of three separate APKs. So on the world on Internet nothing is impossible.
To run Facebook Home APK on your phone, your phone should have a maximum resolution of 1280 x 768 pixels and also users should be able to complete un-install the Facebook app. This pre-release has been successfully carried out on few devices which include world popular Nexus 4 phone and Nexus 7 tablet by Google.
Apart from all other functions, just the new Facebook Chat Heads is not working and the launcher, Facebook Messenger, Facebook app is working completely without any issues.
Procedure to Install Facebook Home on Any Android Device
Follow the procedure mentioned below to install Facebook Home on any Android phone or tablet –
So you need to first download the following APKs
Main Facebook App

Connect your device using the USB cable.
Move the downloaded three files to the root of your SD card.
Now disconnect your phone from PC.
On your device navigate to the files on your SD card.
Install all the three above apps and restart your device.
There your go, Facebook Home is now installed on your device.
Device Working Successfully: Google Nexus 4, Nexus 7
You should have enabled "Install Apps from Unknown sources" on your Android device. As this is a beta app this doesn't require rooting on your phone thereby risk of hurting your phone is zero. Well try on your phone and let us know if that works or not!
Via: MoDaCo