Guide on how to get Apple iPhone Slide to Unlock App for Android Phones and Tablets.
iPhone has ruled over the feature of slide-to-unlock on the iOS environment for long but now you also have apps that let you get the same function going on any Android device. This feature has long been in demand and there are a number of applications now offering it for different versions of Android OS environment. Some of them are directly available on Google's Play Store while others have been results of work by the developer community on the open-ended structure of Android.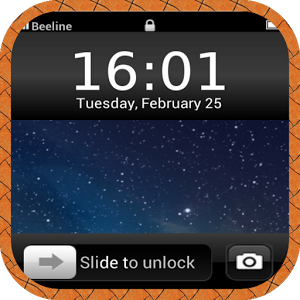 There are many applications available for downloading and installing in the web. The iOS7 Lockscreen Parallax is one of them. Currently available in version 1.4 the app lets you enjoy the same features that users of iPhone 5 or the iPhone 4S get on their lock screen. Basically the app simulates the same functions pertaining to the feature running on iOS6. It overrides the features and functionality of other and similar apps by a large margin. Really what all Android users wishing to operate their device with the feel of an iPhone's characteristic slide to unlock have certainly been waiting for!
iOS 7 LockScreen Parallax: Features
The app has very authentic transitions and delivers the sliding function in a smooth manner.
Quick and simple to use.
Get more than 5 high definition wallpaper background to pick from.
Enjoy easy customization of the UI and get really cool backgrounds.
Can be set as the lock-screen by first disabling the one that is currently installed and then replacing it with this app.
Get the real feel of using iPhone with the lock sound and same vibrations as experienced on an iPhone.
Goes easy on battery life.
iOS 7 Lockscreen Parallax has been developed by Vector Labs and can be downloaded from Play Store using this link.