Find how to get Motorola Moto X Active display on Android smartphone/tablet with Android 4.3 Jelly Bean OS.
Do you love the Android phone lock screen that you see in the screenshot? It's of Motorola Moto X smartphone, the new big thing from the house of Google acquired Motorola. Motorola Moto X is powered with amazing set of features and one of the main features that we like is the Moto X Active Display which lets you see notification even though your phone is locked.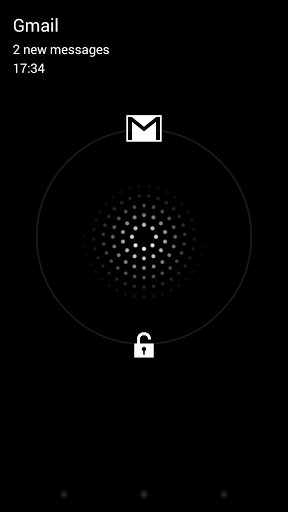 So with Motorola X Active Display you will see all notification directly on your locked screen itself. Time to forget see the notification once when the device is unlocked. Once downloaded, you need to enable ActiveNotification by going through Settings. You also have choice on what kind of notifications that you want to show on Lockscreen. People like me would like to choose only Email/WhatsApp notification. Also if notification disturbs you, you can select "Sleep at Night" to stop notification while you are asleep.
Sadly this app is only limited to phone/tablet on Android 4.3 Jelly Bean OS and right now as we have only limited phones with 4.3 Jelly Bean version, it compatible with Nexus 4, Nexus 7, Nexus 10, Galaxy Nexus, New Nexus 7 2013 model and Samsung Galaxy S4, Xperia Z & HTC One Google editions. Once you get a device with Android 4.3 on your phone, you will be able to install this app. It also doesn't even require your phone to be rooted and the app developer is working on to bring it for other devices on Android 4.2, 4.1 and 4.0 version.
Features:
Notifications don't light up when your phone is in your pocket, purse, or face down to avoid accidental unlocks
Select which app-notifications you'd like to receive via ActiveNotifications
"Sleep at night": Don't show notifications at night (Premium feature)
"More privacy": Hide additional notification details (e.g. SMS text, sender) (Premium feature)
Automatically switch off-screen when dismissing notifications(Premium feature)
Download Active Notifications Android App
Active Notifications is available for download on your Android powered tablets and mobile phones directly via Play Store. Visit Play Store or Scan the following QR Code to get the app link.

Android App Rating – 4/5