Android 4.4.4 Kitkat is now official with KTU84P build number. Download the Google Android 4.4.4 Factory image.
Android 4.4.3 was officially released last month and now the developers at Google is now rolling out magical figure Android 4.4.4 officially right now for Nexus 5 and the same roll out will be happened for first Nexus devices and then the existing Google Play Edition devices.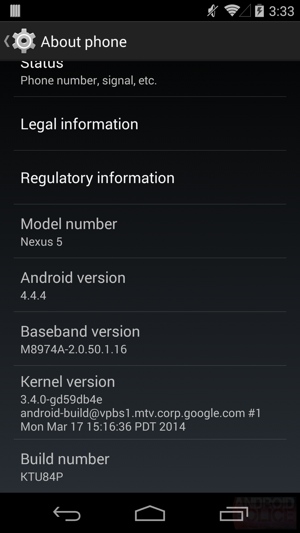 This happens to be another build of Kitkat with version 4.4.4 with build number as KTU84P. This changelog has been posted on Sprint Community forums and happens to be security fix.
It contains a patch for OpenSSL bug which is similar to heartbleed bug addressed during the 4.4.3 Kitkat update. As of now this update isn't available on our Nexus 4 device but it should happen soon within a week time. If you want to update your Nexus 5 device then download the factory image from the source given below.
Download Android 4.4.4 Kitkat Factory Image
Sprint, Nexus Images, Nexus Binaries