Google is more into user customization and for those who want Google Drive into their own languages, here comes Google reply to extend the availability of Google Drive services to added 18 new languages. Among these 18 languages it includes Urdu and Nepali. Other languages includes Afrikaans, Amharic, Basque, Chinese (Hong Kong), Estonian, French (Canada), Galician, Icelandic, Khmer, Lao, Malaysian, Persian, Sinhalese, Spanish (Latin America), Swahili, Zulu.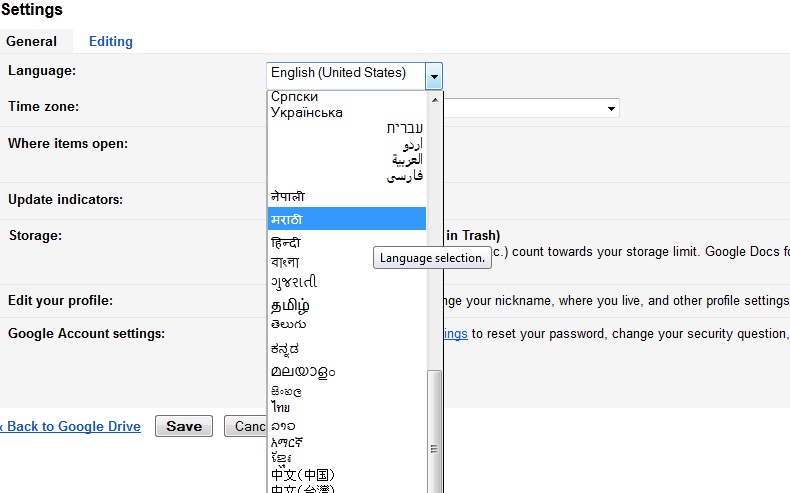 So with this move, Google Drive is available in 65 regional languages counting the recent 18 new language addition. So in Google Drive you can easily switch from one language to another. Now you might have question – will the collaborated Docs, Sheets, Slide, Forms in Google Drive supports fellow collaborators language?Ans: Regardless of fellow collaborators language you can work in your own language in real-time.
You can any time switch to any of the 65 languages by three simple steps –
Clicking the Gear icon in the upper right, then select Settings.
Under General, select a language from the drop-down menu in the Language section.
Click Save. You're done!
If you are looking to change the language for Google Drive for mobile, you can do it by going to device's language settings. Google is changing the world quickly. With Android being a popular platform and YouTube being the #1 video sharing site, Google is everywhere. They are making quite number of changes and things are going much under their way. Recently they renamed Google talk with better Google Hangout with video calling and worthful features. Google Play on your Android is adding features to rent movies, buy games, books and lot more and Google Nexus devices are speeding up the competition quickly in no time.