Check out different Accessories for Google Glass. Buy Google Glass Accessories online.
Google Glass is an amazing wearable display and there is huge market for it in coming years as the development goes better and bigger. As of now you can take beautiful photos and videos, browse content on the web through Glasses, Answer voice, video calls and watch movies/videos.
Google Glass Accessories
Accessories for a particular phone, tablet or device makes it as a perfect gadget, and as we write that, Google has begun selling Google Glass Explorer Edition accessories.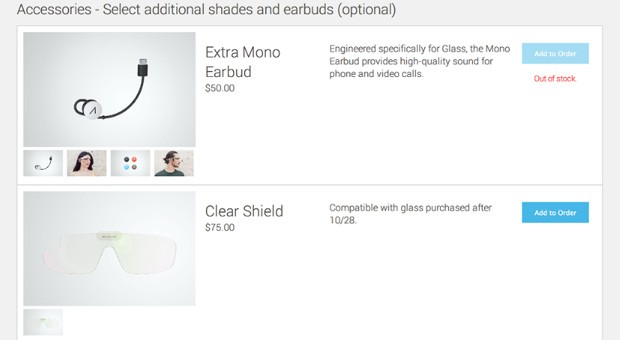 Google Glass Extra Mono Earbud
Extra Mono Earbud accessory for Glass provide high quality sound for any video call or voice call.
Extra Mono Earbud for Google Glass is costing $50(right now out of stock).
Google Glass Clear Shield
Clear Shield for protecting your Glass from any scratches, normal wear and tear will be costing $75. This is compatible with all those purchases made after 28/10/2013.
We are hoping that this is just the beginning, the list of Google Glass Accessories will expand in coming days to broader market worldwide.