Check out the Nexus 5 price in India via Flipkart, Amazon, Snapdeal, where to buy info and Nexus 5 best deals if available.
After much hype the Google Nexus 5 overrides its predecessor Nexus 4 and is here to sprite up your life with better, faster features. The phone has a slick but sturdy design, 4.95 inch-diagonal display and excellent processor speed with KitKat OS placing itself in direct competition with iPhone 5S with a cheaper price-tag.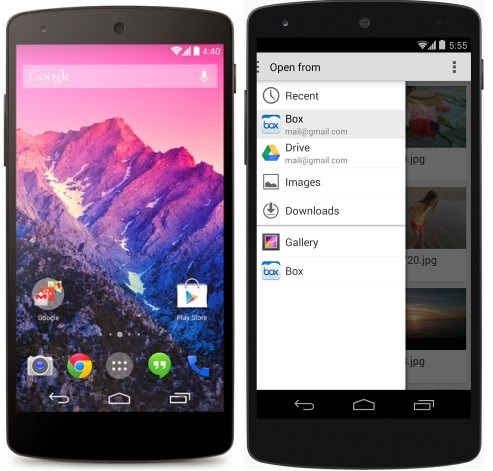 Already launched in many countries, official release of Google Nexus 5 in India is slated anytime on November 12-15, after which you can buy it from Google Play Store. Online retailers like Flipkart and Amazon are already offering their best price on it. Watch out for attractive deals on sites like Snapdeal in days to come.
What You Get With Nexus 5
A smarter KitKat OS which has obviously undergone refinement and performs in Nexus 5 with better voice function, faster scrolling and improved fonts. The phone is user-friendly and integrates functions like Hangouts with SMS-text messaging. It is slightly slimmer and lighter than Nexus 4.
Nexus 5 Specifications
Nexus 5 comprises of following specifications -
Processor & Memory
The processor on Nexus 5 is quad-core Qualcomm Snapdragon 800 2.26 GHz processor. It also has 2 GB RAM and 450 MHz Adreno 330 GPU. You get two varieties, with 16 GB or 32 GB internal memory.
Display
You also get a 4.95 inch LCD display carrying 1920x1080 pixels HD resolution and a 445 ppi pixel density. The device gets wear-tear protection with the Gorilla Glass 3. Some experts feel the Gorilla Glass 3 is smudge-prone.
Battery
The Battery is 2,300 mAh for upto-17 hours' talk-time; supports wireless charging for handset.
Camera
A 1.3 MP front-facing camera and 8-pixel rear camera. Get new-age features like optical image stabilization, LED flash, HDR+ for rapid photo clicking and Auto Awesome. You can create panoramas, create animations and click quick photo-booth shots. Also enjoy the ability to capture 360 degree shots through Photo Sphere. The camera has flash functionality, photos come crisp. Experts aren't exactly gaga over the Nexus 5 camera but find it pretty decent.
New Feature
'Dialer', for displaying phone numbers that can be pulled directly from Web.
Get the Heart of Google Straight onto Your Nexus 5
Be the first to get latest Android updates and access more than 1 million apps, games from Google Play including popular free or paid, by-category or search based apps. Google Maps lends effortless navigation and favorite Google features like Gmail, Google Calendar and Google Keep are right at your fingertips.
The Nexus 5 Kit
The phone comes with AC Adapter-cable, USB sync cable, SIM ejection tool, Quick-start guide and safety-warranty information. You may need to add up an 802.11 a/b/g/n/ac access point for routing the phone for Wi-Fi use. To sync the phone for back-up and other requirements you'll need a Google account.
BUY IN INDIA FOR
Get from Flipkart- 16 GB model at Rs. 30,999, with delivery in 12-14 days.
From eBay- 16 model for Rs. 35,000-from US, free shipping within 7 days; Factory unlocked at Rs. 34,429- 34,989 and the 32 GB model for Rs. 39,998- Rs. 40,999.
Listed on Google Play Store for Rs. 28,999 (16 GB), Rs. 32,999 (32 GB).
Nexus 5 Snapdeal: Nexus 5 16 Gb White variant is sold by Snapdeal at a price of Rs 28,999.