The Google Nexus 7 has finally arrived and it has unveiled at battle in India by setting up the price tag to Rs 16,000 considering India as emerging market. Nexus 7 is available for pre-order via Google Play Store and the shipping starts from April 5, 2013 and with that price tag, it automatically takes on currently most preferred tablets like Samsung Galaxy Tab 2 which includes 311 and 310 models and most preferred Apple iPad Mini.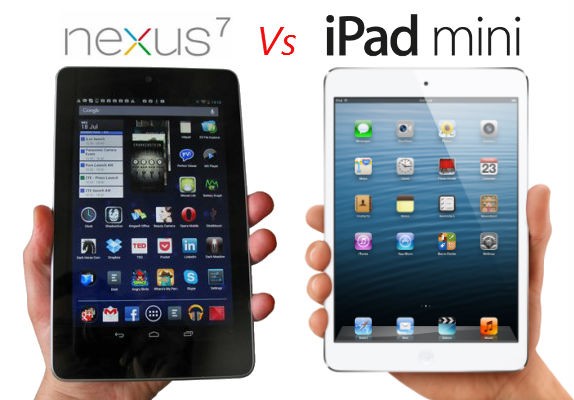 Despite the fact that Nexus 7 is been sold with Wi-Fi only version in India right now, it's a great deal as its promoted with Google naming in it. Going through the comparison on air, all the tablets mentioned here are with 7 inches display and with atleast 600 pixels resolution (Galaxy Tab 2), Nexus 7 is with higher 800 pixel HD resolution and its powered with 1.2 Ghz quad core NVIDIA Tegra 3 processor. Both Apple iPad Mini and Galaxy Tab 2 are with 1 GHz dual core processor with all three includes 1 GB RAM.
Apple iPad Mini is sold in India with three different model variants of 16 GB/32 GB/64 GB along with WiFi only and 3G models. Galaxy Tab 2 and Nexus 7 are sold with just 16 GB internal storage variants.
Parameter

Google Nexus 7

Apple iPad Mini

Samsung Galaxy Tab 2 310

Display Screen

7" IPS touchscreen display

7.9" IPS touchscreen display

7" PLS TFT Display

Resolution

800 x 1280 pixels

768 x 1024 pixels

1024 x 600 pixels

Processor

1.2 Ghz Quad Core NVIDIA Tegra 3

Dual Core A5

1 Ghz dual core

SIM Support

3G Variant In some countries

3G in Some Variants

Yes with Voice Calling

RAM

1 GB

512 MB

1 GB

Operating System

Android 4.2 Jelly Bean OS

Apple iOS 6

Android 4.1 Jelly Bean OS

Camera

No Camera

5 MP rear

3 MP rear camera

Front Camera

1.2 MP front facing cam

1.2 MP front

VGA front camera

Battery

4325 mAh battery

4490 mAh battery

4000 mAh battery

Internal Memory

16 GB

16/32/64 Gb

16 GB

Micro SD card Support

Yes,  Up to 32 Gb

No

Yes, up to 32 GB

Price

Rs 15,999 for 16 GB WiFi model

22,000 16 GB WiFi

30,000 16 GB 3G

28,000 32 GB WiFi

36,000 32 GB 3G

34,000 64 GB WiFi

42,000 64 GB 3G

13,000 for Tab 311

16,500 for Tab 2 310 3G model

Buy Now
Play Store
Flipkart
Flipkart