Until now users enjoyed just apps, widgets and games then followed with availability of books, movies and magazines. Now Google has come up with Play Music available on Google Play Store for Australia. Now only in Australia, Google has rolled Music availability via Play Store in 6 other countries which includes Austria, Belgium, Ireland, Luxemberg, New Zealand and Portugal.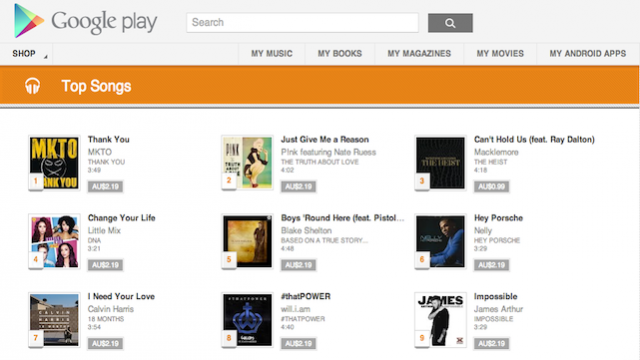 This addition comes along with a major update to Google Play Store which eventually happened yesterday and in the new design you see new text fonts. For Google Music Australia, you can find DJ Havana Brown, Delta Goodrem & Lisa Mitchell. So time to start downloading music of your favorite artists and listen to them directly on Google Play, the one stop shop for too many things on your Android phones and tablets. You can stream the music on up to a list of 10 devices at a time and settings allow you to authorize, unauthorized devices and listen to it even though your are offline.
The Google Cloud Music locker service allows users to store their personal music, other purchases from Google Play. It can add up to 20,000 songs for a single account and that's a huge number.
Google is currently providing various services via Play Store which include Apps, eBooks, Music, Movies, Magazines, TV Series and these services are not available in all countries. Google has lately became active to release these services in several countries and last week India & Mexican users can see renting of movies by Movies app.
This announcement from Google comes via their Google+ account.