Guide on how to take digital notes on Phone and Store it on your Cloud Storage for any time retrieval.
Digitalization has changed the things we do in day to day life. From paper notes to pens, education in modern days is nothing short than a complete revolution, thanks to digital world. Student now find it easier to take notes on digital devices rather than scribbling on their notepad. Microsoft OneNote is one such Android app allows users to take note on it. And for those who possess iPhone, OneNote is available for them as well. It's one of those top 5 Android apps to increase productivity.
With OneNote app you can convert your phone into digital notebook. It's not just limited to taking words into count but you can add pictures, draw graphs, insert table and lot more. Whatever notes you take, it's automatically synced to personalized SkyDrive account and since SkyDrive is a cloud storage service, you can access the notes across any platform anywhere. Remember to connect your phone to data, doesn't matter whether its 2G/3G or 4G LTE or Wi-Fi, anything will do it. If any of your friend was absent on a particular day, you can share with him/her so that he is aware of what happened today.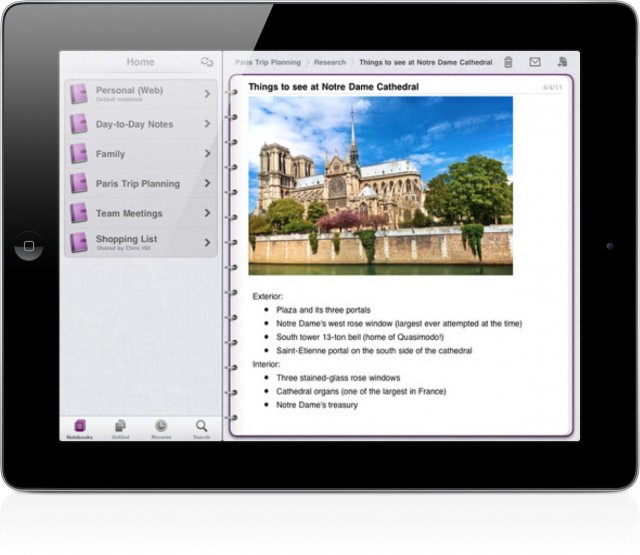 OneNote app includes ability to record audio notes as well. So remove audio notes app and replace it with one app for all purposes. The latest update versions includes ability search for notes, add ordered/unordered lists and copy/paste functionality to quickly copy and paste the commonly used keyword. The latest version is more stable with better user interface.
OneNote app key features includes –
Quick photo capturing accessible via home screen widgets
Apart from text notes, you can record audio notes as well
Search bar is added to quick quest for note archive
Includes ability to add bullet points and number lists
Copy and Paste functionality added for quick writing of common/hard words
If you have a tablet PC, then you can make use of keyboard doc to make you job easier. OneNote app receives 4 star rating across various mobile platforms and its available for free for a limited period of time(that's what it says at Play Store listing).
Requirements: Microsoft OneNote doesn't readily support all smartphones & tablets. You must own iPhone with iOS 6.1 or higher, Android device with v4.0 or higher versions. You should also have a Microsoft account, doesn't matter if it's free.