Xposed Framework is now available for Android Marshmallow which will let you add extra features and functions to your Android device. In this guide we will help you with installation of Xposed Framework on Android Marshmallow device.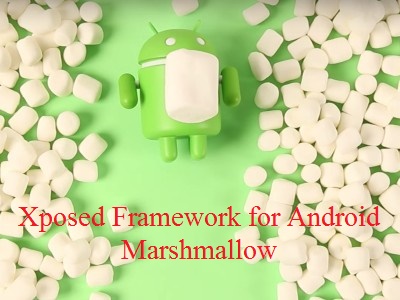 Before we begin let us have an overview of Xposed Framework. If you don't like to tweak your device by downloading Custom ROMs and flashing them, you can do it with Xposed Framework also. Xposed Framework adds extra features and functions to your device. Basically, it modifies your system and brings a number of handy features on your device.
Xposed is a much better choice as compared to a custom ROM. If you flash a Custom ROM it will change whole device system but that is not the case with Xposed. Xposed lets you to tweak you device on the existing Stock ROM. If you will to remove the Xposed feature you can simply uninstall it unlike Custom ROM which need a Stock ROM to be flashed.
List of working Xposed Module on Android Marshmallow
Burnt Toast
CrappaLinks
Play Store Changelog
XXSID Indicator
Greenify
Amplify
YouTube adaway
Xposed GEL Settings (beta)
Cool tool
NotifyClean
Min min guard
BootManager
ReceiverStop
EnhancedToast
Force immersive mode
Swype Tweaks
Swipeback 2
Spotify skip
Lollistat
Flat Style Keyboard
Force Fast Scroll
Flat style colored bars
Materialised xposed (working for some)
App settings
Lockscreen music art remover
NetStrenght
LWInRecents
Screen Filter
BubbleUPNP's Audio cast
Snapcolors 3.4.12
Partially working:
Gravity box (very limited)
XBridge
Boot manager (working for some)
Download Links
ARM devices xposed-v78-sdk23-x86.zip
ARM 64 devices xposed-v78-sdk23-x86.zip
X86 devices  xposed-v78-sdk23-x86.zip
NOTE: Download Hardware info app from Google Play Store to know your CPU architecture.
Install Xposed Framework on Android Marshmallow device
Root your device and Install TWRP recovery on it if not done already.
Download Xposed SDK zip file depending on your CPU architecture from the above links.
Download Xposed Installer Apk from here.
Connect your device to PC and transfer both files to your Phone.
Disconnect the device and turn it off.
Reboot the device into Recovery mode by using appropriate hardware buttons.
Tap on Install in recovery mode and select the Xposed SDK zip file stored on your device.
Flash the file following on-screen instructions.
Now reboot your device to normal mode.
Now, Install  the Xposed Installer Apk.
Open Xposed Installer and apply the tweaks from the available working modules.
That's all enjoy the extra features and functions and let us know if there are any issues through Comments.
Thank you for reading the article.