Check guide on How to Lock/Hide SMS or email on Nokia Asha Phones & on Nokia 208, 109, 301 & other Nokia Asha phones.
Many consumers do care about their privacy. They don't want to show messages or email received on their phone. While the task is easier when you are using Android phone, things need to be little researched when you want to perform the same operation on Nokia Asha and other Symbian S40 based phones.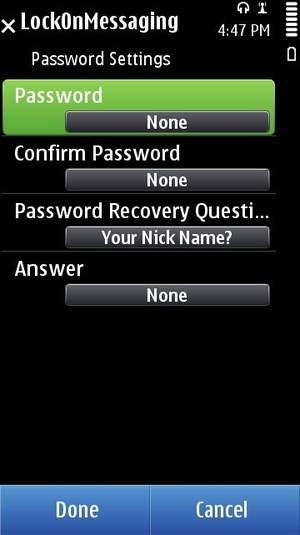 While you own your Nokia Asha 501, 311, 310 or any other Nokia powered phones, you can always have help from Nokia Ovi Store to fulfill your needs. Installing the Lock On Messaging app you will be able to set privacy to your messages in inbox, outbox, sent and draft items including email as well. It's achieved by adding Password to your SMS app. Once the app is installed you need to enter the Password by going through settings and next time when some one tries to read your SMS, he will be asked to enter the password. Even if you browse through the messages on your phone, you will have to enter the passwords.
The app maintains a simple and nice user interface easily understandable to all. It lighter in size as well with 0.17 MB total file size.
Features of LockOnMessaging App are –
Auto lock phone when not used for certain time
Password lock your SMS & messages
Fast & Easy way to set lock
Small sized app
Pretty Clear user interface
Download Lock On Messaging App
From your phone you need to open Store.Ovi.com and search for LockOnMessaging. Install the app and you are ready to roar. Or open LockOnMessaging app link directly if you are viewing this from phone.
Technos Amigos App Rating – 4 / 5