Is Your Android Phone is Strucked. Know how to restart non-removable battery Android Phone when hanged or strucked.
Smartphones are meant for multi-tasking thanks to dual core or quad core processor, you can run tons apps together. Sometimes while running apps in the background, they may get strucked or hanged in between. Since it's a touchscreen phone, there is no input to press the keys and things can be easily done by removing and reinserting the battery. Most of the Samsung, HTC, Micromax Android phones includes battery which can be easily replaced/removed but what if you don't have a non-removable battery phones?
While most believes that phones with removable battery gives you advantage, there is no easy for non-removable battery phones. Here in this guide we show you how you can restart your non-removable phone when hanged although it happens occasionally.
Although touchscreen phone doesn't have any physical keypad for inputs, it does have atleast power button and Volume Up/Down buttons. Some phones also includes Shutter button to click pictures and snaps and all these buttons on any Android touchscreen phone does not just task assigned, but combination of one or two or many will lead to certain hidden task.
What To Do When Phone is Hanged
When your phone is strucked stay calm. Don't give your phone too many inputs together as it can load many functions to perform when your phone is strucked. This may lead to overheating your device and causes problems, sometime serious ones. So in such cases, you should wait for processor to respond and allow few seconds, probably minutes.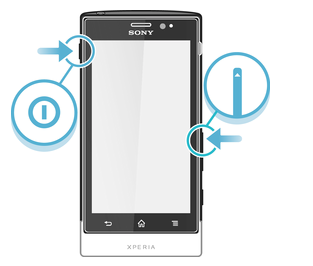 To perform a soft reboot while your phone is hanged on any Android phone, you just need to press the Power button. If power button doesn't do the trick, you can use combination of Volume Up + Power button, Volume Down + Power button, Home button and Volume buttons possible combination and others.