In this check out how to root Micromax A110Q Canvas 2 Plus phone and also follow the unroot guide if necessary.
Android phones gives you the power to modify your phone according to your needs. This stuff is very much useful for developers and little less useful for people who know nothing about the coding or the digital languages.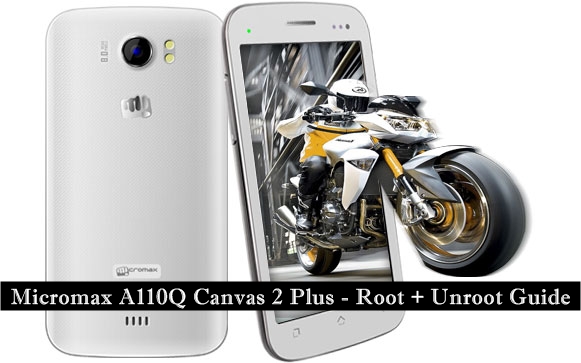 After Micromax A110 Canvas phone, India born & largest smartphone vendor (in India) launched Canvas HD and further through they also launched Micromax A110Q Canvas 2 Plus to deviate customers from huge demand of A116 Canvas HD phone. Your A110Q Canvas 2 Plus can be rooted and blend accordingly to meet your needs of specific app installation or installing a custom firmware.
Preparing Your Phone
Ready to root your phone, ensure the follow mandatory requirements.
Make sure USB debugging is enabled. Go to Settings > developer options > enable USB debugging.
You should have 50 % battery life left on your device to begin rooting process.
You should know that rooting your phone will void warranty if any of your phone.
Your phone should be only Micromax A110Q Canvas 2 Plus, not any other Micromax model.
Files Required
MTK Drivers &
Root Package
Follow the instructions mentioned here carefully -
Download MTK Drivers (Given Above) & install it on your PC.
Download the Root Package & Extract the same.
Connect one end of the USB cable to Micromax A110Q & other end to your PC.
Change the USB mode to Media Device.
From the root package file, you need to run runme.bat file.
Follow the instructions on screen carefully. You will need to type "1" for root and press then enter.
If you ever want to Unroot then input "x" and press enter.
Your device will reboot during the process.
Once the process is completed the device will be restarted.
Do let us know if you face any issues during update process.