Several companies will take note from Samsung experiments with Galaxy Note Pro 12.2 inch tablet and first one to follow the trend is Hewlett-Packard as HP Slate 12 Pro is rumored. Check the HP Slate 12 Pro release date and all rumors until the device becomes official.
HP Slate 12 Pro is basically an unannounced tablets running Android out of box. We came to conclusion as the device recently shown up it's existence on GFXBench revealing most of the device specifications.
Basically Slate 12 Pro will be comprising of 12.5 inch 1600x1200 touchscreen display with 5 finger gesture touch support and powered with Qualcomm Snapdragon 800 quad core processor clocked at 2.2 Ghz and houses Adreno 330 GPU with 2 GB RAM. Also it has 8 mega pixel rear camera and 2 mega pixel front facing camera as well.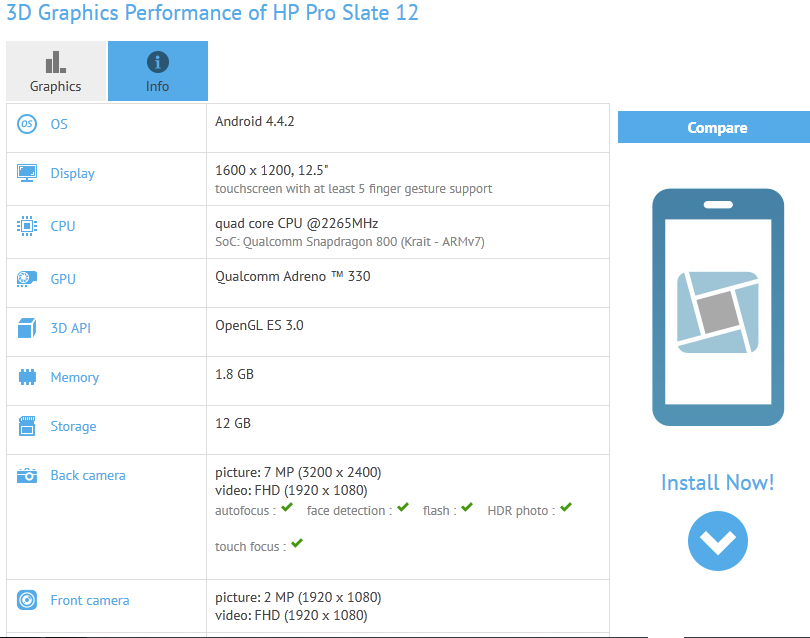 HP Slate 12 Pro Release Date
Since the device has shown up it's presence on GFXBench website, it will certainly hit the official news in coming weeks. The exact date of launch isn't know but we might expect more leaks before the device becomes official.
Slate 12 Pro specifications are identical to company's Slate 8 Pro tablet but with smaller 8 inch display screen.