HTC E1 603e will be the new smartphone which will be launching in China very soon and it shouldn't be confused with Acer Liquid E1, recently launched device by Sony Mobiles. After HTC Desire U launch in Taiwan, Taiwanese smartphone giant is geared up for their exclusive event on February 19th 2013, London and for Mobile World Congress 2013 thereafter. Here comes HTC 603e smartphone headed for launch in Chinese market. As of now no official name of the device is confirmed nor is the operator confirmed but we see device certainly coming up in near future. Its rumoured that it will be HTC One variant for Chinese market, however the news is not yet confirmed.
HTC E1
HTC 603e includes 4.3 inches LCD display screen providing 480 x 800 pixels resolution which means the display screen is pretty ordinary making significant that it will be a mid-range smartphone. It will be powered with 1.15 Ghz dual core Qualcomm MSM8228 Snapdragon processor supported with 1 GB RAM.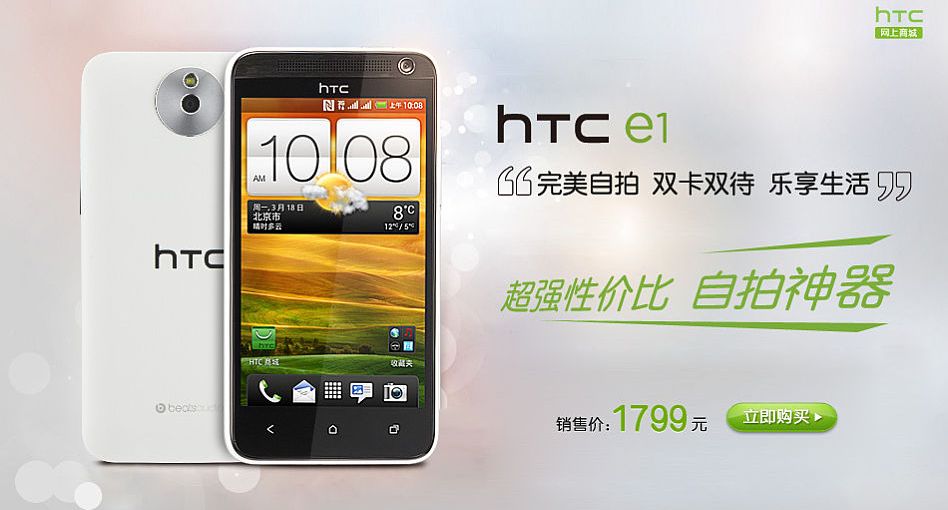 Going through other specs of the device it will include 5 mega pixel camera on the rear with LED flash and front facing 2 mega pixel which can be used for face to face video chat and video calls. With the respective image shown above, we can clearly see BeatAudio printed on the rear side which means it will be out with Beats Audio integration although no Beats headphones will be supplied with it.
It will include the latest version of Android with Jelly Bean version and it include the 1 Gb internal memory along with a micro SD card slot supporting 32 Gb of storage.
HTC E1 will be out with following physical specifications –
4.3 inches WVGA LCD display screen
480 x 800 pixels resolution
Android 4.1 Jelly Bean OS
1.15 Ghz dual core Qualcomm MSM8225 Snapdragon processor
2 mega pixel camera front side
5 mega pixel rear side camera
Beats Audio integration
1 GB internal memory
32 Gb micro SD card support
128.5 × 66.9 × 9.8mm dimensions
130 grams weight
Not sure whether it will be launched via China Telecom or China Unicom.