Android 4.2 Jelly Bean is out and making it count carrying over the same name as that of Android 4.1. For those who hear this term for the first time, let me tell you that, Android 4.2 Jelly Bean OS was introduced with debut of Nexus 4 and Nexus 10 smartphones. So once any update is official by Google Android team, mobile users expects their devices to be updated. Latest Android updates evolves mobile experience & delivering the latest version of the Android OS has been the top priorities of many smartphones vendors added there are certain exceptions. Alternatively if you own Samsung devices then check Samsung Android 4.2 Update Schedule & Devices, and if you own Motorola Android phone then check Asus Android 4.2 update Schedule.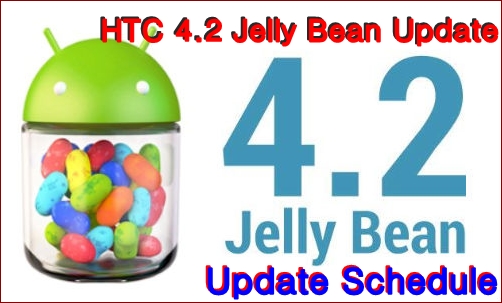 HTC Android 4.2 Update Schedule, Devices List
As general understanding tell us that all smartphone which qualify for the Android 4.0 Ice Cream Sandwich update (released last year) can be updated to the Android 4.2 Jelly Bean update after they pass through Android 4.1. However there is certain exception when coming to HTC smartphones. The roads for devices are clear till Android 4.2 if they receive Android 4.1 Jelly Bean update as there isn't much difference in between Android 4.1 and Android 4.2 except bringing the new features like Google Now and Multi Screen.
Nexus phone are first to get this update and then followed with other devices. Interesting ZTE N880E becomes the first device to get Android 4.2 Jelly Bean update but sadly the device is only for China. So whether you have HTC One, One X, One S or One SV, check here the schedule for HTC Android phone updates –
| | | |
| --- | --- | --- |
| Device Name | Android 4.2 Update | Release Date |
| HTC One | Yes | April 2013 |
| HTC One X+ LTE(HTC Evitare) | Yes | Q2, 2013 |
| HTC One X (HTC Evita) | Yes | April, 2013 |
| HTC Fireball (Verizon) | Yes | April/May, 2013 |
| HTC Jewel | Yes | Q2, 2013 |
| HTC Totem C2(HTC One VX) | Yes | Q2, 2013 |
| HTC One S (HTC Ville) | Yes | Q2, 2013 |
| HTC Valente | Yes | Q2, 2013 |
| HTC Desire V | No | – |
| HTC Desire X | Not Sure | – |
| HTC Butterfly | Yes | Q2, 2013 |
| HTC Desire HD | Yes | Q2, 2013 |
| HTC One XL | Yes | Q2, 2013 |
| HTC Hero | No | – |
| HTC Incredible S | Yes | Q2, 2013 |
| HTC Desire Z | No | – |