HTC M7 will be the flagship model of HTC Corporation going through 2013 and the Taiwanese maker is looking for a strong startup for 2013 lineup of devices. The latest leaks for the Evleaks that we got today at Twitter is that HTC will launch two more Android phones along with M7 launch. Until now everyone trusts that Evleaks leaked information gets official all the time with correction information. So according to Evleaks HTC will launch M4 and G2 smartphone with M7 flagship smartphone as well. HTC also has HTC PN07120 scheduled for launch in Q2, 2013 and also read the HTC Jelly Bean 4.2 update schedule. And HTC Desire U is a mid range smartphone launched recently.
Update – HTC M4 will be launched at HTC One.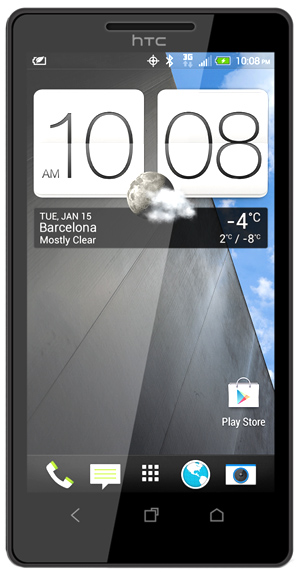 Moreover, HTC has scheduled a launch event on February 19, 2013 at London just before Mobile World Congress (MWC) 2013. All these three smartphones will be announced on February 19 and will be launched later in March or April. All HTC M7, M4 and G2 will be part of the launch event.
HTC M4 Phone
HTC M4 will be a high-end smartphone featuring 1.2 Ghz dual core processor with 2 GB RAM on a 4.3 inches 720p HD display. It includes 13 mega pixel camera on the rear side with 1.6 mega pixel front facing camera and has 16 GB internal memory storage capacity. HTC doesn't want to race their recent smartphones launches in the power of quad core as they thinks that dual core processor is too good for person to achieve better speed on phones. Infact many techies thinks that quad core for smartphones is of a little use. Sadly there is 1700 mAh batter yon the rear side of the phone which can be rechargeable. And it will be sported with Android 4.1 Jelly Bean out of the box.
HTC M4 has following specifications –
4.3 inches 720p HD display screen
1.2 Ghz dual core processor – good
2 GB RAM – very good
Android 4.1 Jelly Bean OS – good
WiFi, Wi Fi tether
1700 mAh battery – average
13 mega pixel camera – very good
1.6 mp front facing camera – very good
16 GB internal memory
It's just matter of time that we will review the smartphone once it's launched.
HTC G2 Phone
HTC G2 will be another phone joining the launch party along with HTC M7 and M4 smartphone. HTC G2 will probably be the cheapest HTC phone of 2013 Android lineup.
Going through the specifications included in the smartphone, it features 3.5 inches HVGA display screen with 1 Ghz single core processor and 512 MB DDR3 RAM. It has 4 GB internal memory and micro SD card slot along with 5 mega pixel camera on the rear side. There is 1400 mAh battery along with Android 4.0 Ice Cream Sandwich version pre-installed on the device.
HTC G2 has following specifications –
3.5 inches HVGA Display screen
1 Ghz processor
512 MB RAM
4 GB internal memory
1400 mAh battery
5 mega pixel rear side camera
Android 4.0 ICS
Originally posted 2013-02-02 11:30:54.