HTC is not done with tablet PCs yet. After HTC Flyer as their first tablet in February 2011 & HTC Jetstream tablet with mobile carrier 4G LTE support in September 2011, the Taiwanese smartphone giant has put a pause to tablet PCs.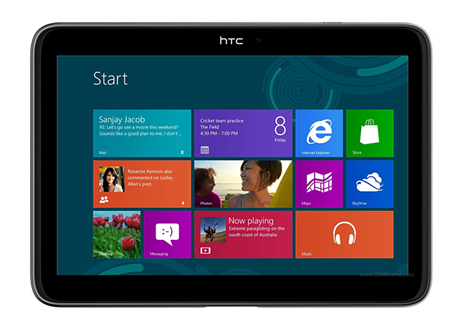 It's now reported that Taiwanese handset maker is expected to come up with a new tablet running Microsoft Windows latest software for mobile platforms, i.e. Windows 8. This is reported by NPD DisplaySearch a consulting firm in Taipei and we spotted this on FocusTaiwan.tw, trusted Taiwan based site for political, tech & sports news. This news of HTC Windows tablet is just like the Nokia Windows tablet, which hasn't been launched yet.
HTC Windows Tablet
The new HTC Windows Tablet could soon be a reality and its said that it will be with 10.1 inches display screen manufactured by Korea based LG Electronics. The display provides 1920 x 1080 pixels full HD resolution with pixel density standing at 218 PPI. The production of tablet has already been started in masses in the first quarter of 2013 and contract has been awarded to Pegatron Corp, the laptop maker for HTC. Although Windows OS is not confirmed, there is no particular suggestion that it will be with with RT OS or just Windows 8.
And as expected, both Microsoft and HTC Corporation declined to comment on this matter. We expect this tablet to be out in Q3, 2013. Stay updated for further information about "HTC Windows tablet" at Technos Amigos.com.