After Asus love of Google with Nexus 7, Huawei is expecting the same from Google. Will they ever be a part of Nexus phone or tablet family? No official announcement yet but Huawei is certainly trying its luck to hang in around the tablet PC market. After MediaPad10 Link and couple of budget friendly smartphones, Huawei has released MediaPad 7 Vogue tablet in Taiwan on June 11, 2013.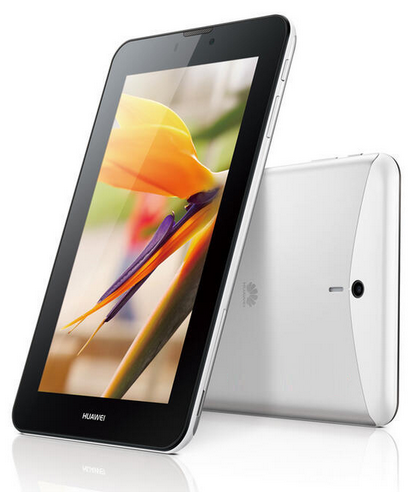 Huawei MediaPad 7 Vogue
Huawei MediaPad 7 Vogue is another MediaPad 7 inch tablet PC spotted passing through DLNA certification process long back, buts its official now. While going through its specs, 7 inches display will provide a maximum resolution of 1024 x 600 pixels and it will be powered with ARM Cortex A9 quad core processor clocked at 1.5 Ghz supported with 1 Gb RAM. The internal storage capacity is not known to us but there is a micro Sd card slot as well and it will be available in black and white color variants with nearly same price of both.
It will be released in three different models namely S7-601U / S7-602u / S7-601w more significantly it can be called as Wi-Fi, Wi-Fi + 3G and Wi-Fi + 3G + 4G models. It comes with HDMI output, DLNA which is pretty much suitable for entertainment and gaming needs. It comes with Android 4.1 Jelly Bean OS out of the box with pre-installed Google apps like Google Play, Google Map, Google Drive, Google Navigation, Gmail, Picasa, YouTube, Google Calendar, Google Now & lot more. The rest of the specifications of the device are not known to us yet, will be available soon after FCC approval.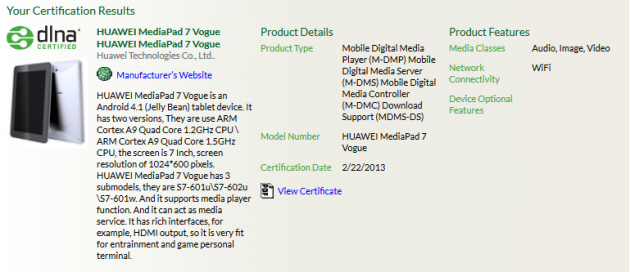 Huawei MediaPad 7 Vogue Specs, Features
MediaPad 7 Vogue flaunts following specifications –
7 inch touchscreen display
1024 x 600 pixels resolution
1.5 Ghz ARM Cortex A9 quad core processor
1 Gb RAM
Android 4.1 Jelly Bean OS
WiFi, WiFi tether
Bluetooth, HDMI, DLNA
Micro SD card slot
4100 mAh battery
Huawei MediaPad 7 Vogue Availability
Powered with Emotion UI it will be pricedat 8,990 Taiwan Dollars which is about 29,000 Yuan.