Kareena Kapoor promoted iBall is a famous brand since Kareena became its brand ambassador. Bipasha Basu endorses Byond Mobiles and Celkon mobiles is endorsed by Virat Kohli. So celebrities becoming a much need for brand promotions. Anyways back to our tech news, today iBall a Mumbai based company known for computer peripherals have come up with Andi 5I smartphone. Its Andi 5I (not to be confused with English Letter L).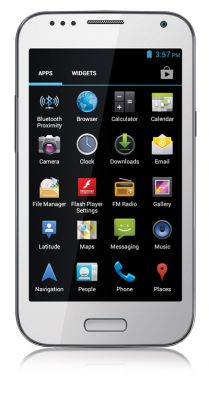 iBall Andi 5I
iBall introduces Andi 5I smartphone as their flagship smartphone. Talking about flagship smartphone out in the market there are too many launched everyday by Indian brands especially. Today Swipe Telecom announced Fablet F3 and Fablet F2 at Rs 9500 and Rs 7300 respectively. Other phablets soon to be out in the market are Mogu S1 at price of just Rs 2500, Umi X2, IOcean X7, Beidou M1. Check Must buy Quad Core Phone in India.
Among the successful phablet phones are Samsung Galaxy Grand, Note, Note II and none of them have achieved decent success in India. Lately, Micromax with A116 Canvas HD blitzed the records by hitting 9,000 devices sales on day 1 of its launch. The result is staggering for Micromax but not for iBall, Swipe Telecom, Videocon and Karbonn.
Going through the physical features of iBall Andi 5I smartphone, it features 5 inches TFT touchscreen display using the LCD Super Responsive technology. This display provides 800 x 480 pixels WVGA resolution.
Powered with Dual Core MediaTek MT6577 processor clocked at 1 Ghz, supported with 512 MB RAM, this has been the reason for lower price tag of phablet phones in India. MediaTek is low cost processor as in compared with Qualcomm Snapdragon. Andi 5I includes 8 mega pixel camera on the back of the phone with LED flash and auto focus providing beautiful 720p HD video recording and also we see front facing camera as well which can be used for video calling purpose.
iBall Andi 5I is not that impressive when compared with Micromax Canvas HD phone or either with Lava Iris 501 phone. We were disspointed with battery life of Andi 5I as it just stands at less than 5 hours of talk time out from 1800 mAh Li-ion.
iBall Andi 5I has following specifications mentioned –
5 inch TFT LCD Super Responsive display screen
800 x 480 pixel WVGA resolution
1 Ghz dual core MediaTek MT6577 processor
4 GB internal memory
512 Mb RAM
8 mega pixel rear camera, LED flash
Front facing VGA camera
1800 mAh battery
3G HSDPA up to 7.2 Mbps
Bluetooth 3.0, WiFi, WiFi tether
Dual SIM Support GSM + GSM
iBall Andi 5I Pricing & Availability
iBall Andi 5I is available for purchase via various retailers online. Its suggested price is Rs 12,000 and it shouldn't be price more than that. IBall provides free flip cover for this smartphone and it will be available in both White and Black color variants soon various iBall distributors and retailers.
Pros
8 MP + VGA camera
Cons
1800 maAh battery
Verdict
There are lot many pros and few cons of Andi 5I phone. The biggest of flaws of Andi 5I is it too limited 1800 mAh battery which provides less than 5 hours of talk time.