Aditya Birla's Ideal Cellular believes in promoting their smartphone. While the 3G adoption is India is very slow, after the telecom operators have paid huge amount of money to win the auction, Idea has achieved decent success than any other 3G player like Airtel, Reliance. What Idea Cellular has done is that they have come up with self-promoted Idea smartphone originally manufactured by Huawei. Here comes another smartphone by Idea refreshing their 3G smartphone lineup. This is the first phone introduced in 2013 by Idea and last launched device by them was Idea Ivory 3G.
Idea Zeal
Idea Zeal is brand new smartphone introduced by Idea Cellular. It would be the cheapest Idea-powered smartphone launched until now. Featuring a 3.5 inches touchscreen display it provides a maximum resolution of 320 x 480 pixels. It's powered with Qualcomm Snapdragon single-core processor clocked at 1 GHz and supported with 256 MB RAM. There is 3 mega pixel camera on the rear side of the phone with digital zoom and autofocus but I am not sure whether it will provide you with a decent quality of photos and video recording. Internal storage is limited to 512 MB but only less than 250 MB would be usable and there is a micro SD card slot which supports an expansion of up to 32 GB micro SD card.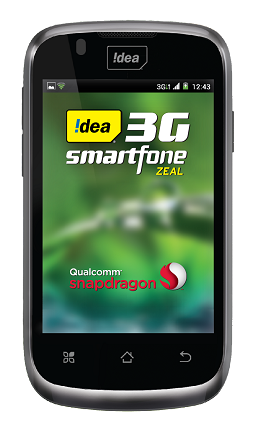 Set at Rs 5400, the above-said specifications are good but Android 2.3.6 Gingerbread version disappoints us a lot than any other feature. But I think that wouldn't make any major difference since running Ice Cream Sandwich would consume high amount of battery and resources but Android 2.3 will consume considerable less amount of resources. Wi-Fi, Wi-Fi tether, aGPS, Bluetooth all adds to specifications of devices.
Last but not least it comes with various free apps like Google Play, Google Maps, Google Drive, Google Navigation, Google Places, Google Calendar and YouTube included in Android OS and Idea has added Idea TV app to the device.
Idea Zeal has following specifications –
3.5 inch touchscreen display
320 x 480 pixels resolution
1 Ghz Qualcomm Snapdragon processor
3 mega pixel rear camera with auto focus
256 Mb RAM
512 Mb Internal Memory
Micro SD card supporting 32 GB storage
Dual SIM GSM + GSM support
Android 2.3.6 Gingerbread OS
WiFi, WiFi tether, aGPS, Bluetooth
Idea Zeal Pricing & Availability
Idea Zeal is price at Rs 5400 in India and comes up with a boutique of offers of by Idea Cellular on their 3G network usage. Although this is an unlocked device, their offers prompt the users to hang in with Idea Cellular 3G services. At a pack of Rs 261 as the first recharge, you get 1 GB of data usage every month for three months in a row and for the same period you get free access to Idea TV on your phone.