While high-end smartphones like Samsung Galaxy S4 and Sony XPeria Z are known to all, barely anyone remembers the cheapest phones in the market. We put the fight among the cheapest Android mobiles phone between four - Celkon A83 vs Micromax A25 vs Lava Iris N320 vs Spice Stellar Mi-285. But joining the fight is Intex Star White mobile phone launched in India at a price of Rs 3,999.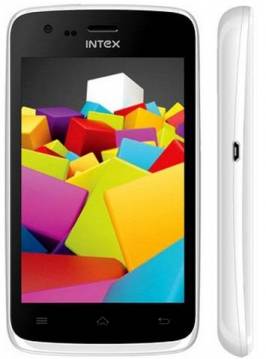 At Rs 4,000 you spend for Intex Star White mobile phone you get the smooth capacitive touchscreen display with bigger 4 inches display providing 320 x 240 pixels resolution. Plus Dual SIM GSM + GSM SIM card slot makes you to take advantage of both the networks in terms of data charges, SMS or call rates although both SIM card accepts on 2G. Its powered with 1 Ghz single core processor providing good enough response time.
We are surprised to find Intex powered this handset with dual camera, rear camera acting as primary with 3 mega pixel sensor providing ordinary video recording and decent image quality and 1.3 mega pixel front camera is used for face to face video chat. Android operating system version adopted here is Android 2.3.6 Gingerbread and pre-loaded Google apps like Gmail, YouTube, Picasa, Google Maps and Google Play.
When it comes to storage, internal memory is limited to few MB but there is a micro SD card slot providing storage up to 16 GB maximum. Most of the users prefer either 4 GB or 8 GB good enough for audio, video storage needs.
It includes 1400 mAh battery on the rear side providing up to 3 hours of talk time or 200 hours of standby time as specified by the company in datasheet.
Intex Star White has following specifications –
Display: 4-inch capacitive TFT LCD touchscreen display, 320 x 240 pixels resolution
Dual SIM: Yes, GSM + GSM Support
Camera: 3 mega pixel primary camera, 1.3 MP front
Processor: 1 GHz Single core Processor
Software: Android 2.3.6 Gingerbread OS
Connectivity: Wi-Fi, Bluetooth, USB connectivity
Battery: 1400 mAh Li-ion battery with 3 hours talk time
Dimensions: 67.3 x 121 x 11.8 mm, 114 grams
Storage: Internal + 16 Gb micro SD card support
At an expense of Rs 4,000 you get quite a good number of handy features and from our review point, you should straightaway go with it if you have budget not more than Rs 5,000 in your mind.