iOS 7 devices running share now grow gradually to 79% of Apple phones/tablets.
Apple Inc recently posted stats of iOS version share according to devices using them. The latest version of iOS mobile operating system, i.e., iOS 7 is now running on 79% of the handsets.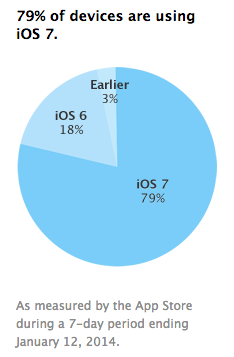 Last month according to stats, iOS 7 was running on 74% Apple devices up from 60% as in October. Now the percentage share grows to 79$ as on January 13, 2014.
Apple iOS 7 incredible growths within few months to 70% of devices is due to the fact that iPhone 5C and iPhone 5S runs the latest version of Apple OS 7 out of box and there aren't a large number of Apple handsets altogether. Furthermore within a month of iOS 7 debut, iPhone 5C, 4S were upgraded to iOS 7.
Apple iPhone 5 iOS 7 OTA Update
So if you own an iPhone, are you running the latest version of iOS on your device? Do check it out by going through Settings > About Phone and check out tips, exclusive guide on iPhone, iPad on Technos Amigos.
Source: Apple