Apple Developer has now released the App Store distribution for the month of April 2015 as iOS 8 adoption is now pushed to 81%. Yes, the iOS 8 adoption is now picking the speed again thanks to Apple Watch.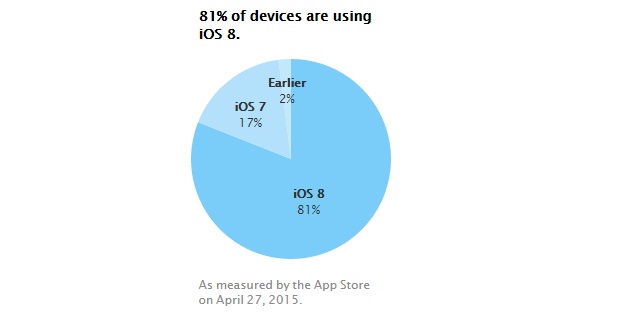 Last month iOS 8 adoption rate was 79% and still there are 17% devices are running iOS 7 and 2 % are still on iOS 6 or earlier.
It's mention worthy that iOS 8 is still behind the highest adoption rate achieved by iOS 7 which stood at around 87% at time in 2014. On the other side it's great to such big turn around in 2015 as iOS 8 is no touching 81% percent mark. This data comes from Apple Developers for those visitors coming to App Store.
Via : Apple Developers