Apple iOS 8 is now running on 77% of iDevices as Cupertino based smartphone giant has released iOS distribution Stats.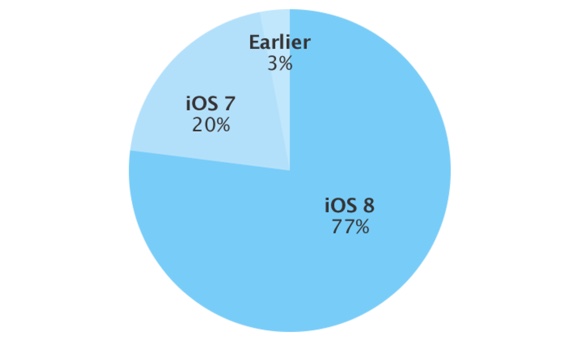 iOS Distribution Stats
The iOS distribution dashboard reveals that iOS 7 still runs on 20% of all devices and iOS 6 still up in the pie chart with 3% for the platform. Apart from iOS 6, 7 and 8 there is no details on various iOS 8 versions.
The March distribution stat for iOS 8 is jumped 4% since the mid-February stats but iOS 8 has still a long way to catch up as the adoption of latest iOS software version is pretty slow thanks to number of bugs found on iOS 8 and earlier version.
Apple recently seeded the iOS 8.2 update to eligible devices on the Apple Watch launch day and also released iOS 8.3 as public beta.
Via: Apple Developers