It's not more iPhone mania. Some greats also say that good time was with Apple when Steve Jobs lived his last years. Outplayed by Android, iPhone 5 sees a demand from a lower side as all the major Canadian operators like Bell, Virgin, Fido and Telus has slashed iPhone 5 prices in quick time. This discount is because of fewer people opting for Apple's latest innovation. Generally we don't write about Apple stuff, but this discount prompted us to share this piece of information with you.
iPhone 5 Bell Canada
Coming to Bell CA, iPhone 5 is available at $99 for 16 Gb model, $ 199 for 32 GB model and $ 279 for 64 GB model. All the three models are with new three years contract with Bell. The 32 Gb and 64 Gb model are available in Black and White color variants at no extra charges.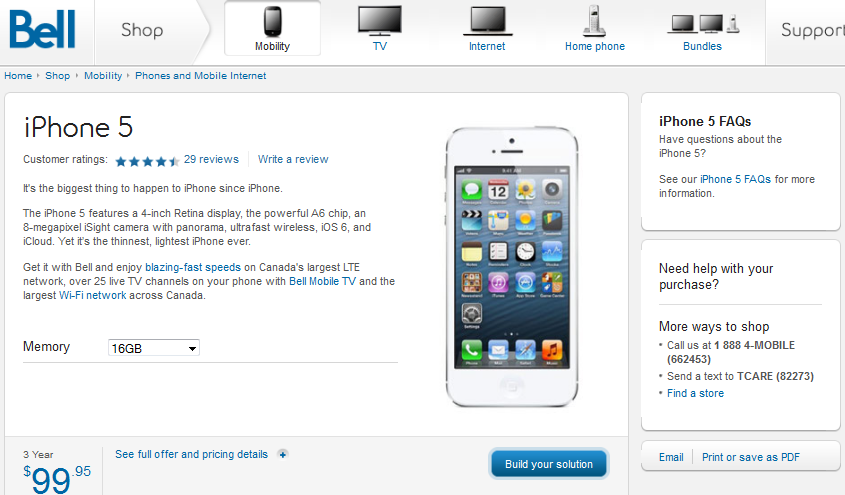 Check iPhone 5 Bell Listing
iPhone 5 Virgin
With that move from Bell, Virgin Mobiles also gets the same response from their consumers. The 4 inches iPhone 5 is now available at $ 99.99 if you choose Platinum Plan for 16 Gb model. With plan, the 32 GB model is priced at $ 199.99 whereas 64 GB model is priced at $ 279.99. interestingly iPhone 4S and 4 are been sold for free but with all these phones, you need to pick up Platinum Plan of Virgin Canada and also need to sign up three years contract.
Check iPhone 5 Virgin Listing
iPhone 5 Telus
iPhone 5 64 GB is been sold at $199, 32 Gb version at $ 149 and 16 GB model at $ 99 with three years contract in common. Telus is also selling Refurbished iPhone 5 for free, 4S 16 Gb & iPhone 4 8GB for free.
Check iPhone 5 Telus Listing
iPhone 5 Fido
Finally coming to Fido iPhone 5 16 GB/32 GB/64 Gb models are sold at $100, $200 and $280 with 3-years contract agreement.
Check iPhone 5 Fido listing
So are convinced to buy iPhone 5 now seeing this discount? Which telecom operator would you choose to buy iPhone 5 since all offer nearly same pricing?