iPhone 6S GeekBench repository has surfaced revealing iPhone 6S internals with Apple's newest A9 Chip with 1 GB RAM.
The iPhone 6S is the iPhone of the year and it will launch on September 9, 2015. Yes, that's the date you got to watch live streaming of iPhone 6S along coming out with iOS 9, the next-gen Apple TV and a new iPad Pro [all rumored not yet officially announced].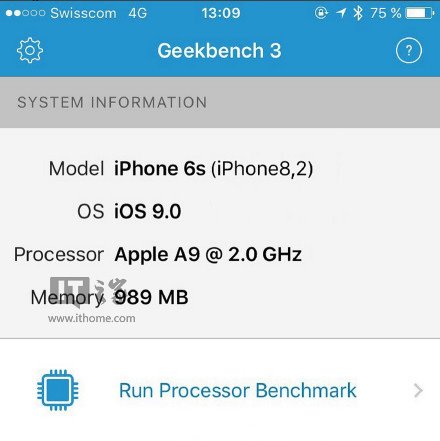 There has been lot many iPhone 6S rumors hitting the headlines in recent days. After video showing no bendgate on iPhone, guys at ITHome posted GeekBench configuration of iPhone 6S phone. According to those guys, the iPhone 2015 will be equipped with Apple's newest A9 processor clocked at 2.0 Ghz coupled with 1 Gigs of RAM[989 MB show in the snapshot]. Model number as soon in the screenshot is coinciding with what was earlier rumored as iPhone 8,2 and iPhone 8,1.

There are more reports that iPhone 6C will not be coming on 9/9 event as it will be pushed for early 2016 launch. Catch all the rumors surrounding iPhone 6S phone and rumors for iPhone 6C goes here.
Via: ITHome