Missing Google Nexus 7 tablet in South Korea? Or Looking for cheap alternatives for Google Nexus 7 then Iriver Wow Tab could be your answer. For South Korean market, Iriver Wow Tab is Nexus 7 as it sports nearly the same features.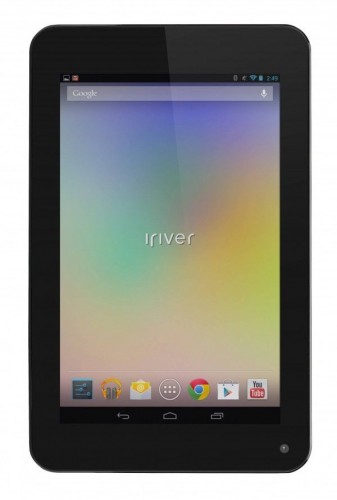 Iriver Wow Tab
Iriver Wow Tab is the second to be launch in the phase of tablet PCs by Iriver South Korea. The first phase of this tablet introduced in July 2011 bearing model number as ITL-MX100 but it has been discontinued now and it carries the same name for its successor. The hardware and the design are the two key things you should look out in recently launched Wow Tab.
Wow Tab features 7 inches multi touch input display providing a maximum resolution of 1280 x 800 pixels using the LCD IPS touchscreen display. It will be powered with quad core NVIDIA Tegra 3 processor clocked at 1.2 Ghz supported with 1 GB of RAM. These two hardware specs are enough for us to judge that this is certainly on the higher side of features.
Other specifications of the device includes 16 GB internal memory with 2 mega pixel front facing camera built in stereo speakers, Bluetooth v4.0, G-Sensor, digital compass, aGPS and 4,000 mAh battery. The battery containing 4,000 mAh provides 7 hours of continuous video playback time. One thing to mention here, 3G function has been omitted from its predecessor models. Device is with 192 mm x 122 mm x 10.6 as the dimensions and weighs 338 grams which is certainly on the lighter side.
Iriver Wow Tab has following specifications –
7" multi touch input display screen
1280 x 800 pixels LCD IPS touchscreen display
NVIDIA Tegra 3 1.2 Ghz processor
1 GB RAM
16 Gb internal storage capacity
2 mega pixel front camera
WiFi, WiFi tether
Bluetooth v4.0
G-sensor, digital compass, aGPS
4000 mAh battery
7 hours of continuous video playback time
338 grams weight
It will be available for purchase in South Korea at a suggested price of 24,000 yen or 270008 won which converted to US Dollars equals $ 258. Its certainly a budget buy for a quad core powered tablet.