After the debut of Karbonn Smart Tab 1 and S1 Titanium, Karbonn is certainly going the Micromax way. No doubt that Karbonn is #2 in terms of tablet PCs sold in India. Here comes another tablet by them dubbed as ST10 Cosmic and here we go through details specifications, features, price & review of the device. Micromax may be the #1 tablet PC vendor in India but they should be careful that Karbonn is catching up the competition and with it Cosmic 10 Smart Tab its up with better hardware and specifications to keep it up with competition. Further more Videocon VT10 is up against big hurdle.
Karbonn ST10 Cosmic
Karbonn ST10 Cosmic is a 9.7" capacitive touchscreen display providing a maximum resolution of 1024 x 768 pixels with 10 Point multi touch  support. With 720 p HD resolution, its the perfect tablet to view the HD content on a 9.7 inches device providing you the complete entertainment on the go. The processor unit is taken care by the 1.5 Ghz dual core processor along with 1 Gb RAM acting along providing the cosmic speed due the tablet usage. With dual core next to quad core processor, still its good to see in a tablet which is priced at Rs 10,300 at Flipkart. If you find 9.7 inches tablet bigger in size then you can go with Karbonn SmartTab 8 Velox, sibling of ST10 Cosmic costing Rs 6800 in India.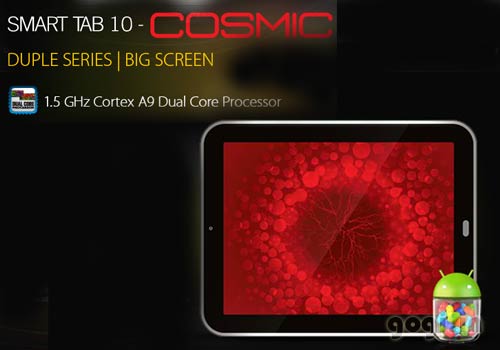 ST10 Cosmic tablet includes the latest version of the Android OS pre-installed as it comes with Android 4.1 Jelly Bean. The good thing about this tablet is that it has a powerful 6,000 mAh battery which provides 8 hours of browsing time. With Google's open source operating system for mobile you get various Google apps pre installed like Google Mail, Google Drive for free storage, Google Maps for mapping and world maps, Google Navigation, YouTube and Google Play Store by which you can download, install thousands of applications available for free and paid download which includes among the games, widgets, tools and software's as application.
ST10 Cosmic includes dual camera with front facing standing at VGA resolution and rear side camera with 2 mega pixel. Along with 1.5 Gb internal storage capacity there is a micro SD card slot by which you can add up to 32 GB of micro Sd card. There is Wi Fi internet access, Wi Fi tether, HDMI port, 3G USB support via Dongle, 3.5 mm stereo headset jack. The device includes various sensors like G-Sensor, Accelerometer, 3D G-Sensor providing better tablet experience.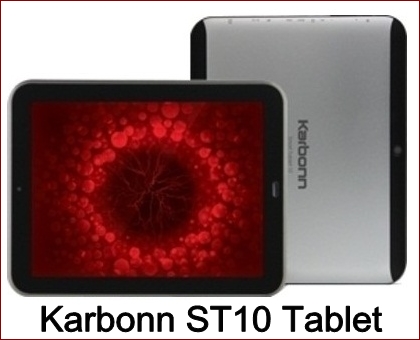 The tablet includes King Soft Office software by which you can view the various pdf files, Word document, Excel sheet, ebook format like TXT, LRC, PDF, ePUB, FB2 are supported. The tablet includes pre installed browsers like Google Chrome and stock Android. Device includes the USB port and hence by this can be connect the USB dongle like the Tata Photon, ZTE, Vodafone, Airtel data cards which are more prevalent because those provides on the go internet access to WCDMA or 3G network as Wi Fi internet is very much limited to internet access at home and office premises.
Karbonn ST10 Cosmic has the following features –
9.7" capacitive touchscreen display
1024 x 768 pixels resolution
1.5 Ghz Cortex A9 dual core processor
1 Gb DDR3 RAM
Android 4.1 Jelly bean OS
6000 mAh battery
2 mega pixel rear camera
VGA front facing camera
32 Gb micro Sd card support
Karbonn ST10 Cosmic Price & Availability
Karbonn ST10 Cosmic is priced at Rs 10300 in India and its available via various retail stores both online and offline.


Pros
Good display resolution at 720p
Good battery capacity at 6000 mAh
Cons
Rear Side camera
Verdict
Given at Rs 10,000 there are unlimited tablets available but Karbonn ST10 Cosmic certainly stands out among all those. Certainly its worth go. We recommend you to buy this tablet from Flipkart which is the #1 trusted smartphone and tablet retailer.