Not from Mobile World Congress, we head to Chicago & San Diego where US Cellular has come up with Kyocera DuraPro a rugged smartphone with military standards 810G certification. DuraPro is developed by Kyocera Communications and it will soon be available on February 27, 2013 via the nationwide carrier.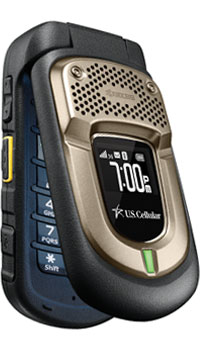 Kyocera DuraPro
Kyocera DuraPro is rugged smartphone which means it has more resistance to water, shock, dust and vibration enclosed by non-slip Dura grip material, so is the name of the devide as DuraPro. It can be immersed into water of 1 meter depth up to 30 minutes and can still work. Along with that it includes 3.2 mega pixel camera with larger keypad and powerful speakers.
This phone has programmable hot key providing options to quickly access Bluetooth, Calendars. We are sure that 1360 mAh battery would be great enough to run the device for atleast 10 hours of talk time. This smartphone supports two languages ie Spanish and English.
To sum it up, Kyocera DuraPro has following specifications –
Advertisements
2.0" QVGA TFT color display
1360 mAh Lithium ion battery
3.5 mm headphone jack
Autonomous GPS
Stereo Bluetooth 2.0 +EDR
3.2 megapixel camera
32 GB micro SD card support
Kyocera DuraPro will be available at discounted price of $149.99 outright from its original price of $299.99. Plus there is $50 mail-in rebate as well so that makes the price of the device to be around $99.99.