Update – This phone has been officially discontinued.
Here comes Kyocera Torque E6710 smartphone, the first ultra-rugged 4G LTE smartphone announced by Sprint in the United States. Kyocera Torque is not a normal device as it's built to be drop proof, dirt proof, and water proof Android powered smartphone.
Kyocera Torque E6710
According to the official press release by Sprint, it's said that more than 82 million smartphones have been destroyed by water, moisture, dust and other impacts. Kyocera Torque is built with Military Standard 810G and receives IP 67 certifications because it can withstand shock, high vibrations, dust, water, humidity, cold and hot extreme temperatures, solar radiation.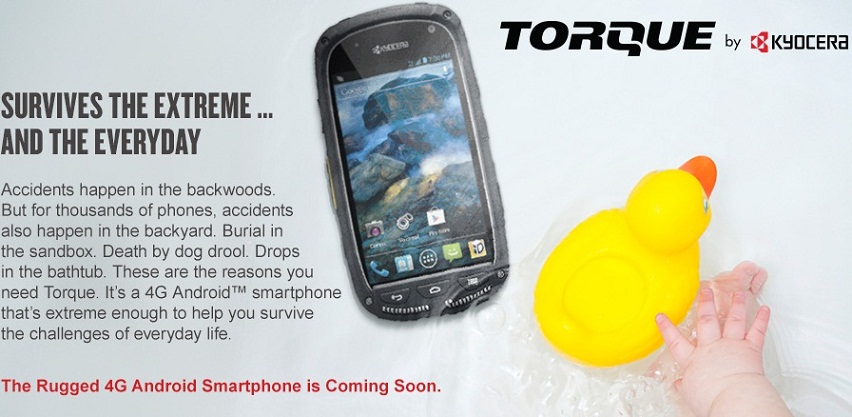 It can be immersed in water of up to one-meter depth for about 30 minutes and still works. So this means that whether it's raining or water or drink falls on it, it can bring no harm to the device. It can easily withstand an extreme temperature of around -22 degree to 60-degree centigrade.
And sudden drop from your hand for about 4 or 5 feet height can be easily bared by this one. Moreover, it has become for smartphone to be dust proof while you are riding. The device features 4 inches LCD IPS touchscreen display providing a maximum resolution of 800 x 480 pixels and it has got ruggedized, shock resistant glass protecting it from any normal scratches, wear and tears.
Powered with 2500 mAh battery provides long lasting battery life to the device and it's necessary when you are out on extreme tours where you can't find source charge your phone. It's powered with Qualcomm Snapdragon MSM8960 dual core processor clocked at 1.2 Ghz and it has got 4 GB internal memory along with 1 GB RAM. We already said that it's a 4G LTE enabled smartphone making use of the Sprint 4G network wherever available to provide faster download and upload data speed.
Kyocera Torque E6710 has following specifications –
4" WVGA LCD IPS touchscreen display
1.2 Ghz MSM8960 Qualcomm Snapdragon dual core processor
4 GB internal memory
1 GB RAM
32 GB micro SD card support
2500 mAh battery
Android 4.0 Ice Cream Sandwich OS
4G LTE support
Torque by Kyocera is listed at official Sprint site with status coming soon.