LG Electronics has officially launched GPad 8.3 tablet. Check LG GPad 8.3 specs, features  and other details.
LG's has officially announced as new tablet as rumored few weeks ago is now official in South Korea at $510. Dubbed as GPad 8.3, it's announced after a long time. Asking the people for what they look into a tablet PC, they will design first LG tablet PC in 2013. As the video trailer shows up and IFA 2013 is nearing up quickly, we can expect it's debut in September first week from the house of LG. Company has planned to come up with the launch of this tablet in 29 markets and in India it will be launched in Q4, 2013.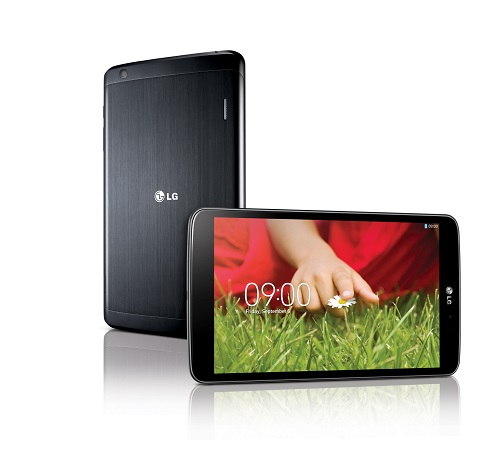 It's clear the display size will be 8.3 inches with 1080p full HD resolution and with thin design, it will possess ability to connect with smart TVs via HDMI.
Also Read - IFA 2013
According to reports at TheMobileNation, it will be powered with Qualcomm Snapdragon 600 processor as opposed to Snapdragon 800, the next generation chipset. It further adds that the tablet will be available in WiFi version only. It includes 2 GB RAM with 16 GB internal storage capacity and we might have micro SD card slot as well. Though many tech sites have written about it, n0 details on primary or front camera is available and also will it sport Android or any other OS remains mystery, though Android might be the perfect choice.
Size

216.8 * 126.5 * 8.3mm

Weight

338g

Color

Black, White

Network

Wi-Fi Only

Chipset

1.7GHz Quad Qualcomm Snapdragon ™ 600

Display

8.3 inches WUXGA (1920 x 1200, 273ppi)

Camera

500-megapixel rear, 1.3 megapixel front-

Battery

4,600 mAh

Memory

2GB LPDDR2 / 16GB eMMC

(Micro SD up to 64GB)

Operating System

Jelly Bean Android 4.2.2

Connectivity

GPS (GLONASS),

802.11 a / b / g / n Dual (2.4/5GHz),




BT 4.0LE,

Miracast

Shipment

Available, 7 October 2013

We will wait for official announcement from the house of LG.