LG Optimus G Pro might look down when compared with Galaxy Note II, but it's certainly a hit in home country. Optimus G Pro is barely available to worldwide users and LG has already claimed a sales record. The large size phablet phone notched 10,000 devices order on the day of launch and within 40 days half a million sales record.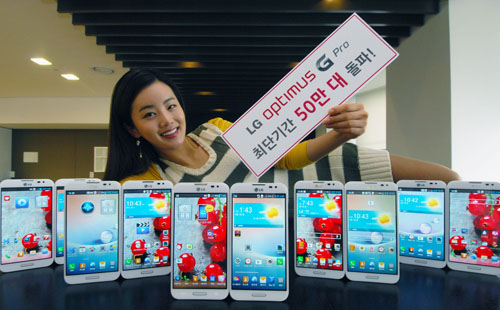 Going through LG Optimus G Pro it clearly follows the Note II successful formula and the South Korea giant has ensured that specifications of it little high in comparison. You might be interested in checking out the LG Optimus G Pro vs Samsung Galaxy Note II comparison depicting on what parameter Optimus G Pro outcomes the other Korean giant phablet device. The Qualcomm Snapdragon 600 quad core CPU is been packed on to Galaxy Note II biggest competitor. LG has exclusive photoshoot with model posing 5,00,000 devices sale in home country alone. Here are few photos from the LG NewsRoom.
Few Comparison - LG Optimus G Pro vs Oppo Find 5 || LG Optimus G Pro vs Samsung Galaxy Note II
LG has done everything to achieve this feat. They had several promotions, one was to allow customers to give it for 30 days trial and how it's useful in their daily life. Packed with the Sensitivity UX with better user experience on to 5.5 inches full HD IPS display provides true life vivid picture quality. Within next two months LG is looking to bring this device in Pacific regions and in Europe as well. Incidentally when it was launched in South Korea, its predecessor was launched in the same week in other countries. If LG is quick to launch Optimus G Pro in international countries, then it's pretty sure that the sales record would be doubled in no time. You can check Optimus G Pro International availability, release date.
Via: LG Korea