We have reviewed LG Optimus G2 the perfect smartphone for your daily life needs. Check the complete review with detailed specs.
There hasn't been too much hype around LG mobile phone releases in recent years, however they will be hoping that their latest release will change perceptions somewhat. Brand opinions can shift with one release in the mobile phone market and for that reason; every release is an opportunity for a brand to move towards the top of the market. The LG Optimus G2 is the latest flagship model created by LG and despite possibly being overhyped; it may very well be good enough to rank alongside the well-known heavyweight Apple and Samsung.
Phone Specs
Well first of all it's the first phone to globally become available with the super fast Qualcomm Snapdragon 800 processor. It's quad-core, it has 2 GB RAM and it also has its own dedicated graphics RAM, which is impressive and a new innovation for the mobile phone world.  Whether other phone companies will see this feature and take it on board themselves, we will have to wait and see! LG could prove to be the newest, most tech-advanced brand.
Other features on the LG G2 are a 5.2-inch IPS LCD screen with 423ppi density and a 1080p resolution. – impressive enough to run Visopix off. The phone is big, bold and bright.  Everything you could want in a phone right? Let's look at more of the phone's specifications which might help you to decide.
The phone runs on Android 4.2.2 Jelly Bean, not version 4.3 however. Hopefully they will update this in the near future, as this may help to improve the speed of the phone and may also prove to be a winning feature for all those tech savvy people out there.
Another interesting thing with the LG G2 is that it is very thin, at just over 8 mm thick. This is similar to the iPhone 5 which is just 7.6 mm thick, this shows us that many smartphones nowadays are improving their functionalities yet becoming smaller! How small are companies prepared to go? We have seen with Samsung and their creation of the Samsung Galaxy S4 and S3, that their phones seem to be getting larger – although they have brought out 'mini' versions of both of these handsets.
On it's back there are some other unique design features, with volume control and an unlock button just underneath the camera – which by the way is 13 mega pixel with LED flash and optical image stabilization, to reduce the effects of shaky hands when using it. It's almost as if you have a professional camera, but in a much smaller version.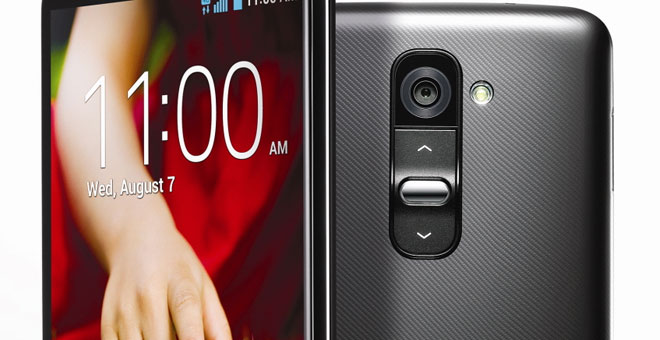 The actual battery is a 3,000 mAh battery that is imbedded. It uses what LG calls a step-design for the battery that helps it keep its thin profile. Although this helps to keep its thin profile – will this battery prove to last longer than that of competitors such as the iPhone and Samsung's Galaxy S4?
Features
One interesting feature on the LG G2 is a feature called knock-on, which lets you tap the screen twice to unlock the phone and you can also knock it again to tap and shut everything down. This might either help or hinder pocket calls and texts! Also, this is not yet seen on any other smartphones so could this among others b one of the features that set this phone apart from the others?
Another thing that's really nice is you can automatically turn on the camera by just holding down the volume key. In addition, holding the volume up button will open a very handy memo feature. However, will this cause you to take lots of pocket pictures by just knocking the volume key against something in your pocket?
Slide Aside
Another really great feature on the LG G2 is something called Slide Aside. Essentially, with Slide Aside you can open up to three different applications push them to the side of the screen and save them for later use and retrieval. This is brilliant if you are trying to reply to an email as it will help you to view different applications at once. Such as an image a document and the email application.
You can also separate the interface with profiles and have a guest mode – which is very kid friendly. This is something you can hand to your toddlers without them messing with your email, or making phone-calls or texts off your phone. This will also stop your children ringing up a huge phone bill through accidentally downloading an array of different apps!
Right now we don't have pricing on the LG G2 just yet. What we do know is that we will see it by the last quarter of the year, just in time for the holiday season. But will the price reflect its quality and be reasonable enough for people to be able to purchase?
Watch this space, as come Christmas this phone may be the new front runner and may be overtaking leaders in the smartphone market with their newest features which differentiates them from the obvious choices of Blackberry's, iPhone's and Samsung phones. Customers are always looking for the newest features and apps when buying a smartphone so maybe this could be the time for LG to really launch them into the market and hugely increase their customer base.
There is much to look forward to with the LG G2 and it has all the makings of an impressive phone. However whether its features are enough to propel LG to the top of the market is an entirely different matter. Overtaking the Apple iPhone and Samsung's new Galaxy S4 may prove to be much harder as these two companies who are currently leading in the phone market are forever updating their handsets, making it hard for any other brands to come close. So whether you choose to go with the New LG G2 or not may depend entirely upon the price, which as mentioned previously, is yet to be announced. Will the LG G2 prove to be the new front runner in smartphones? Only time will tell.