China Mobile has announced the upcoming of Optimus Vu 2 successor and we see Optimu Vu 2 Plus as a part of China Mobile promotion at Mobile World Congress 2013. Yes, it's the last of Mobile World Congress and China Mobile is geared up for another eventful year. LG has eventful MWC following with F5, F7 smartphones, L3 II, L5 II, and L7 II launched and bigger of them all, Optimus G Pro was launched.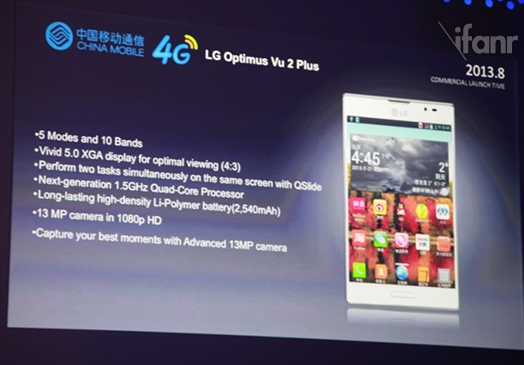 LG Optimus Vu 2 Plus
So LG Electronics doesn't like to stop their experiments with Vu phablet phones. Back from its last year announcement of Optimus Vu, we have Vu 2 with surprise design. Continuing it with 5 inches Vivid XGA touchscreen display rather than going with the IPS display, looks like an experiment from LG electronics. The display screen provides a maximum resolution of 1024 x 768 pixels and it provides 4:3 aspect ratio just like its predecessor. Its powered with quad-core processor clocked at 1.5 GHz. It has 13 mega pixel camera on the rear side and also has front facing camera. With rear camera you can record 1080p full HD videos easily along with host of features and takes pictures of your life.
LG has powered this phablet phone with 2540 mAh Lithium-ion based long-lasting battery life. It includes LG Electronics based special apps like QSlide, QNote. This would be high-end smartphone providing 4G LTE internet access. We see that LG will include the latest version of Android with Jelly Bean 4.1 out of the box.
LG Optimus Vu II Plus has following specifications -
5 inches Vivid XGA touchscreen display
1024 x 768 pixels resolution
1.5 Ghz Quad Core processor
13 mega pixel rear side camera
2540 mAH battery
Android 4.1 Jelly Bean OS
WiFi, WiFi tether
QSlide, QNote
4G LTE internet access
We don't know when this would be available in China via China Mobile an also no word has been said on its pricing as well as of now. We expect it to be out by May 2013 in China, South Korea and expects its availability before Q3 in United States, UK, Australia and European countries.