Samsung Galaxy S4 is officially out now and Google is gearing up for Google I/O event to be held in May 2013. Just like Samsung UnPacked event, Google I/O is one of the biggest sole event by Search Engine giant held yearly. With Nexus 4, Nexus 7 and Nexus 10 sales growing better, they are about to reach a saturation point. Time for some better successor to these smartphones and tablet PCs. As a part of Google I/O teaser, Motorola X or Google X is been leaked and today it looks like Google has extended LG's contract to Nexus 5.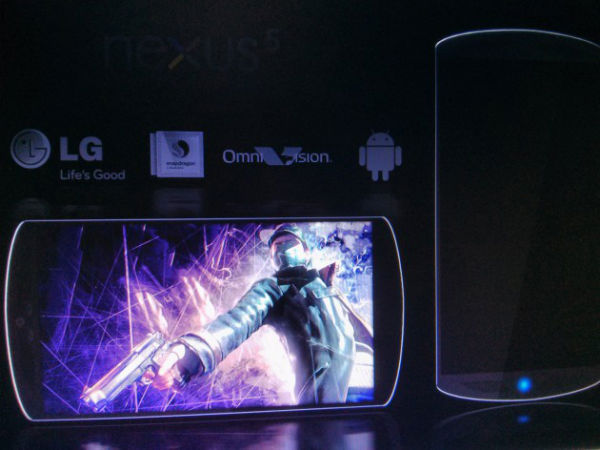 LG Nexus 5 Megalodon
LG Nexus 5 will certainly make inroads during the Google I/O summit this year. While most of us have focused our attention on Google X phone, LG Nexus 5 is spotted in wild rumors out around. So what is Megalodon, it might be the codename of device. LG Nexus 5 photo has been leaked online and also detailed specs are available with us. Sporting 5.2 inches touchscreen display, LG's long time plan to come out with OLED display comes here. Surprisingly this is not the first phone to come with OLED display as Galaxy S4 gets that. The display will providing amazing 1920 x 1080 full HD resolution with better pixel density.
Nexus 5 is powered with 2.3 Ghz Qualcomm Snapdragon 800 processor with 3 GB LPDDR3 RAM and comes in three different models of internal storage with 16/ 32/64 GB. OmniVision powers the 16 mega pixel camera on Nexus 5 phone which provides 1080p full HD video recording at 60 fps, 4k video recording at 30fps, real time HDR image/video recording, BSI 2.0 sensor. There is 2.1 mega pixel camera on the front providing 1080p video recording at 30 fps as well.
The LTE speed can go up to 150 Mbps download thanks to Qualcomm RF360 chipset and there is 3300 mAh battery Lithium Polymer battery providing enough usage time of a day or two.
LG Nexus 5 might include following specification –
Display: 5.2 inches OLED display
Resolution: 1920 x 1080 pixels resolution
Processor: 2.3 Ghz Qualcomm Snapdragon 800 processor
RAM: 3 GB LPDDR3 RAM
Storage: 16/32/64 GB internal memory
Camera: 16 mega pixel camera
Front Camera: 2.1 mega pixel front camera
Battery: 3300 mAh battery
Front stereo speakers
LG Nexus 5 will arrive in September/October this year although its announcement would be early, expecting to be at Google I/O.