There are many Android Marshmallow users who are still not aware of most (if not all) of these really cool offerings (hidden features) from the OS. Although Google in its I/O developer's forum presented all the major features from the new Android version but there few more features of which users are not aware of and might be too late for these features coming out at this time but it is still worth it.
So, let us now go ahead and have look at this cool features of new Android Marshmallow.
System UI Tuner
The Quick Access or System UI Tuner we presented on custom ROMs has finally found a way on official Android. The pull-down notification bar now hosts torch, hot-spot, Bluetooth, airplane mode, rotation and cast screen. These shortcuts can be changed with other shortcuts of your choice.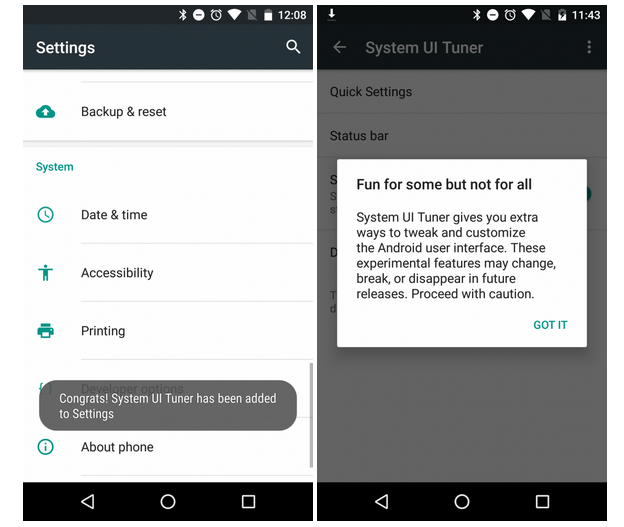 New App drawer with Search facility
Some users might find the new app drawer a bit too whitish or spaced out, but the functionality has improved for sure. For example, if you have excessive apps installed then you now have to search to find the app you are looking for. Moreover, the most used apps will be displayed on top row for easy access. Apps are also clearly alphabetized for better visibility as well as scrolling based on the alphabet.
Complete App state Backup
This is one of the best feature and honestly, you might be kind of surprised that Google skipped this in the presentation. The reason for not publicly announcing this feature was that people tend to get insecure due hacks and all. Android will now automatically backup all app settings and preferences on Google Drive. This is a step to bringing Android to the level of Apple as they provides on new device setup or change of device. Apps will not be reinstalled but shall be fully setup. This won't require any compatibility from the app side, its built right into Android Marshmallow. Moreover users need get tension about the space that will be occupied by the app's on Google Drive, as the space that will be backed up is limited to only 25 MB.
Uninstall Apps from the Home Screen
Previously you had to open the App drawer to uninstall an app. Or you had to go to Settings > Apps > browse a long list to find the undesired app. Well, now you can directly uninstall any apps just by drag-and-drop from the Home Screen / Folder / App drawer.
External Storage gets Native Support
All previous Android versions like Kitkat and JellyBean had begun biasing expandable storage which had caused concern for many Android users. Then Lollipop brought some previously lost functionality and now Android Marsmallow treats microSD cards just like the internal memory of the Android device. This is reason enough to celebrate as you can now store more app's on your device with help of large size external sdcards available.
Dark Theme
The white themed Android was a fresh change and look for many users, but it was too white for some users. Android Marshmallow has a dark theme for the more audience. There is another option which automatically switches to the white theme during the day and a dark one for the night. With updates and stability.
5 Ghz Tethering
Creating a hotspot to share your data from Android was earlier restricted to 2.4 GHz, but Android Marshmallow will now allow 5Ghz WiFi Tethering. Although there are still concerns whether tethering will reach speeds that require 5Ghz, but the ever-improving services in 4G means that your device will still be good in a few months (or years).
Native Bluetooth A2DP streaming
Bluetooth / wireless music listeners will enjoy now. Although major Bluetooth devices already have A2DP dual channel stereo technology, but building it into the Android framework means that even certain economic and incompatible devices shall work well.
Google Voice Search Access
Although unlikely to be useful for a majority of audiences, Google voice search is now accessible directly from the lock screen. If you are a user that makes more calls than searches, we feel for you. But some problems may appear at time to resolve call issues.