Android OS is not just famous for open source and Google Play but it's growing to be #1 choice for gamers as well. Games like Angry Birds, Subway Surfers, Miniclip 8 Ball Pool games are all famous and know to all. If you love arcade games then Mad Jimmy – Flying Farmer is certainly worth try.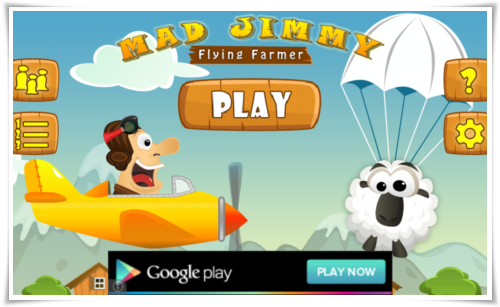 Mad Jimmy – Flying Farmer
Have interest in shear a sheep, that too in the air? Mad Jimmy – Flying Farmer, release by Madjimmy Games on Google Play, your task here is to shear the sheep which comes on your way. You as an Android gamer will be taking up the role as flying farmer named Mad Jimmy. It's so called Mad Jimmy because all the animals Pigs, Hens, Sheep are flying through the air and your job is to shear the sheep. By achieving the given task, you can find the secret treasure map only known to the farmer. On a particular game level you need to sheer a certain number of sheeps and collecting different coins makes the game interesting. You shouldn't hit solid rock or trees or mountains in between.
It's a simple arcade game when you take control of Mad Jimmy up in the air. It's control is very much easy as you just need to make use of touch button on the left and right to move helicopter up and down. This game is for the entire Android version with Android 1.6 and higher and available for free download via Google Play.
Highlights of the Mad Jimmy game are –
Lots of challenging levels
Fun game play
Cool and unique graphics and sound effects
So download the game and let us know how much do you rate it.
Download Mad Jimmy – Flying Farmer Google Play
Mad Jimmy – Flying Farmer APK Download
Android App Rating – 4.25/ 5
Verdict
Nice, simple and easy arcade game with great graphics and funny music. Upgrade version will be interesting to see.