Recently I was on to my Facebook Fan Page and under the page tips I was able to find the text written as "Managing Pages from Your Android Device". I instantly opened the link and it redirected me to an app page on Google Play Store.
Facebook Pages Manager
Yes, I am talking about Facebook Pages Manager right on your Android device. I mentioned it Android device because this apps allows you to manage your existing Facebook Fan Pages on your Google's Android powered tablet PC and smartphone as well. In other guide of Facebook we have provided guide on how you can set Facebook Fan Page to your desired name.
When you have a Facebook Fan page, Followers & Fans of that page will like to see regular updates from the admin. Also its more about see your Facebook Insights showing positive data with increasing count on people talking about this, people reached, comments, shares, likes. It's always might not be possible for any users to keep them update as you can't carry your laptop all the time. But one thing you have all the time with you is a smartphone. With increase in technologies reach of what you can do on your smartphones, it's always easy to manage your Facebook Page easily.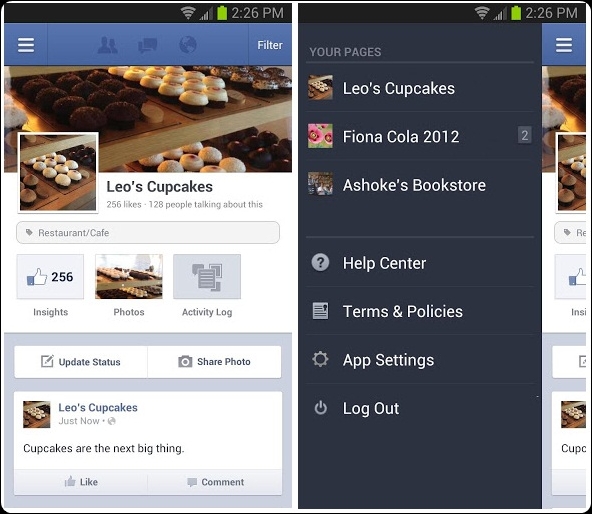 Facebook Pages Manager Features
Facebook Pages Manager is one Android application available for download officially via Google Play Store allows you to manage your existing Fan Pages. Using this apps on your tablet or mobile phone you can do following stuff –
Post new updates and links directly from your device
Respond to comments as your Pages
View, respond to privates messages in your Page
Check the Facebook Fan Page Insights
Get notified about the activity happening on your pages
Facebook Fan page is a free application available for download at Google Play Store. With 4 star rating, this is one of the most downloaded app and only the app to manage your Facebook Fan Pages easily.
Download Facebook Pages Manager
Android Application Rating - 4/5